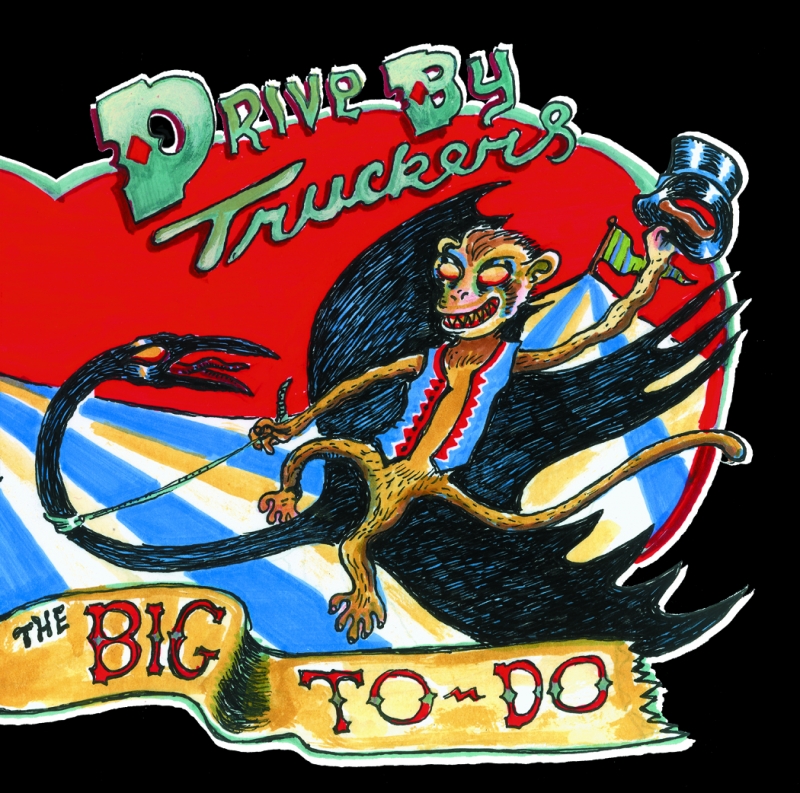 First off; cards on the table, the Drive By Truckers are a one of the reasons I started an Americana/roots blog. They and a handful of other bands crossed my path while living in New york City and coming to grips with my Southwestern roots. The mighty DBTs embraced what Patterson Hood brilliantly coined the "duality of the Southern thing" (from the Southern Rock Opera song Southern Thing):
You think I'm dumb, maybe not too bright
You wonder how I sleep at night
Proud of the glory, stare down the shame
Duality of the southern thing
In the South we call it the ugly sister exception – I can call my sister ugly, but if you do it's out of line and you'll probably get your ass handed to you. It really just boils down to the attitude shared by many disenfranchised tribal-like cultures – we can take care of our own, thank you – no outside help is wanted or appreciated. This attitude spoke to me and my upbringing and it opened up a world of familiar yet new, interesting and exciting musical narratives and sounds that was part Cormac McCarthy and part Lynyrd Skynyrd Southern-swagger meets the Replacements punk pop smarts. it was like the Drive By Truckers took the current alt.country genre replaced the engine and floored it.
It's a common Catch-22 many of us apply to bands. We want our precious, unearthed gems to stay our little special secret and to achieve only enough success so they can continue to make music but not enough where they achieve the dreaded "sell out." The Drive By Truckers haven't reached the mega-fame of U2 or Radiohead, but they are far from  from their humble Alabama beginnings. And as they say the band have done good for themselves.  Rave reviews and relentless touring and sizzling live shows led to divorces, band changes (both encompassed by singer/songwriter Jason Isbell's divorce from bass player/singer Shonna Tucker leading to his subsequent departure from the band) kids, marriages, playing back-up and for legends Bettye LaVette and Booker T Jones, Austin City Limits, David Letterman etc. etc. This special secret was getting progressively less secret. Patterson Hood even took to wearing thick hipster classes and drinking wine instead of Jack Daniels!
As success has come the narratives from A Blessing and A Curse, Brighter Than Creation's Dark as well as The Big To-Do are less abut the cultural landscape of the South and more about the emotional landscape of middle-age which, By the nature, is going to be less interesting and more self-indulgent.
The "rocking" moments are here but they are few and more subdued than in the band's piss-and-vinegar past. Patterson Hood's Daddy Learned To Fly and After the Scene Dies both carry shades of past rock greatness. The Fourth Night of My Drinking follows the Groundhog Day-like binging of some poor schmuck, full of boozy minutia  like "There was a taste in my mouth, I wasn't liking it." The tune grooves more than actually rocks, but it picks up the tempo near the just to crest into a peculiar Pink Floyd finale. This Fucking Job has a great title, but that's where the vitriol ends. It's a blue-coller bitch-and-moan counterpoint to David Allen Coe's  hillbilly au revoir Take This Job and Shove It, with riffs cribbed from The who's Can't Explain. Hood's Santa Fe is not groundbreaking but has a nicely satisfying sorry of lost love and twang. Even when Hood covers familiar dark backwoods of the human soul. like in The Wig He Made Her Wear, the menace is cut buy the arrangements. it just sounds so damn…peppy. With The Wig He Made Her Wear hand claps just ladles cheese on an otherwise great song.

Mike Cooley, who continues to be criminally unrepresented, only has three cuts. Get Downtown is a rollicking boogie-woogie tune that would tickle The Killer and a bittersweet ballad for his son Eyes Like Glue closes the album. Though Cooley showed on The Dirty South's Where the Devil Don't Stay and Daddy's Cup that he can speak with dignity and bravado from even the most pitiful and poor white trash's POV,  the jaded stripper in Birthday Boy seems to have no redeeming value and comes off as more pathetic than sympathetic.
Shonna Tucker's weighs in again as the newest singer/songwriter in the band  (she's played bass for the band since 2003.)  The atmospheric weeper, You Got Another, and the doo-wap girl-group-style cut (It's Gonna Be) I Told You So, seem like oddities on a DBT album but come as a nice surprise and allows Tucker to put her stamp on the group. I've said it before, to me Tucker has the charm of the drunk girl who sings passably at karaoke but does it will such passion that you have to admire her nerve.
Wes Freed continues, with his fantastic outsider art style, to portray the DBT brand as hand-crafted, epic and menacing.
Ex-Trucker Jason isbell sang "So don't try to change who you are boy, and don't try to be who you ain't" on the Dirty South's Decoration Day's fantastic Outfit. On the Big To-do the mighty Drive-By Truckers aren't necessarily being what they aint, they certainly aren't what they used to be.