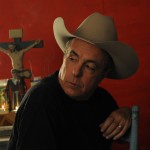 Anyone who regularly reads this blog knows that I'm a huge fan of Tom Russell. L.A. born with a  degree in criminology from the U of California, Russell also taught school in Nigeria during the Biafran War. He began his musical career in the early 70's in Vancouver BC playing strip bars. He later drove a cab in New York and met guitarist Andrew Hardin and Robert Hunter of the Grateful Dead and both heard his songs and convinced him to pursue his craft. Rusell currently reside in El Paso, Texas where the border town culture influnces his work as a songwriter and painter.
An anticipated '09 release here at Ranch Twang is Russell's upcoming Blood and Candle Smoke (Sept 15.) The album was recorded in Tucson, AZ at Wave Lab Studios with members of Calexico providing a Southwest/world music accompaniment to the songs.
Southwest and Spanish textures are finely represented in the song Santa Ana Wind. The song features Nashville-based singer/songwriter Gretchen Peters, who Russell collaborated with on the excellent One To The Heart, One To The Head, on backing vocals. The backing band is Joey Burns (Spanish guitars, bass), John Convertino (drums), Barry Walsh (Wurlitzer, piano), Craig Schumacher (percussion), Jacob Valenzuela (trumpets), Nick Luka (steel Guitar.)
The song employs Russell's trademark literary narrative blending spiritual mystery and the corporal grit resulting in a song as expansive as the great Southwest itself.