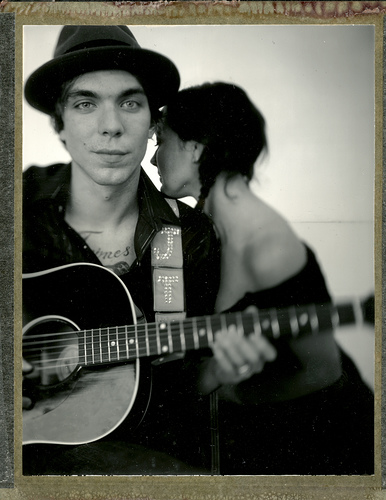 Is there anything more rebellious in country music, more dangerous, than looking upon the glittering cash-choked chintzy Nashville beast and giving it the proverbial finger, all the while embracing the giants that built the beast? Looking it directly in it's soulless, dead eyes and exclaiming"I know you, and I know where you came from."
Yes Justin Townes Earle displays his daddy's instinct to blaze his own trail but doesn't do it by rocking Guitar Town. No the younger Earle does it by embracing country's past – Bob Wills, Jimmie Rogers, George Jones, Buck Owens and , yes, Steve Earle's more melodic side, to craft a release that is as respectfully traditional as it is audaciously gutsy.
This is no mere study of past greats, Earle makes each song his own. "Hard Living" reaches into rollicking Western Swing complete with gypsy jazz fiddle and the title song is a forlorn weepy croon that would be at home in a Ray Price or George Jones set list. "Ain't Glad I'm Leavin" has a rustic blue yodel feel coming back through the ages.
"Who Am I To Say", the Civil War narrative "Lone Pine Hill" and especially "Turn Out My Lights" harkins back the Senior Earle's more melancholy heart-wrenching compositions. "South Georgia Sugar Baby" has a New Orleans voodoo running all around it and "What Do You Do When Your Lonesome" and "Lonesome and You" are great straight up Bakersfield honky-tonk cuts.
"The Good Life" may be Justin Townes Earle trying to find his sound but he makes it damn fun to be along for the ride.