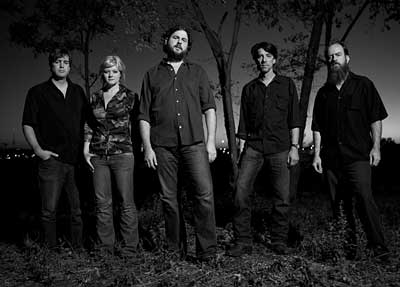 As anyone who has read this blog for more than 10 minutes knows I'm a big Drive By Truckers fan. I believe that the Truckers' break out double-disc "Southern Rock Opera" nearly single-handedly saved the Southern rock genre from the trash heap of cultural irrelevance and slapped the snarky sneer off rock snobs everywhere. I came to the party late by picking up 2004's "Dirty South" and was hooked immediately by the gritty and vivid rendered tales of lives lived between the moral cracks of the rural South. Populist music dealing with real people confronting challenges and rejoicing in everyday wonders – whether country, folk, punk or rap- hinges on authenticity. As the saying goes, if you can fake authenticity you've got it made.

Fans, not people just genre slumming or chasing fashion, but fans willing to put in the work to care and listen, can pick up the stink of a poser a mile away. Whether on their records or from the stage of one of their scorching Jack-Daniels-soaked-never-ending-tours, the Truckers definitely walk the walk, and "Brighter Than Creation's Dark" is a testament to that labor.
Primed from playing as the backing band for the Great Lady of Soul Bettye LaVette on her Muscle Shoals produced "At the Scene of the Crime" and the first post Jason Isbell departure release is a daunting 70 minute 19 song epic. Patterson Hood does what he does best by spinning yarns of post-death domestic bliss (the banjo tinged "Two Daughters and a Beautiful Wife") and paternal self-medication ( "Daddy Needs a Drink" complete with new/old band member John Neff's floating pedal steel and Spooner Oldham's master organ work)
Hood also tackles what passes as a Drive By Truckers anti-war songs with "The Man I Shot" and "The Home Front" by telling the tales from young soldier with fresh blood on his hands and a military wife left at home with her two-year-old. Hood also addresses current chemical scourge of Middle-America working class with "You and Your Crystal Meth"done in a cadence reminiscent of his live performances of Bruce Springteen's "State Trooper." "Goode's Field Road" is a amped-up tale of a man done good / gone bad with soaked in a swampy wah-pedal voodoo-vibe.
Mike Cooley brings the goods with the fuzzed-out "3 Dimes Down" which sounds like a lost track from Exile on Main Street. "Perfect Timing" and "Lisa's Bithday" are straight-up country tunes with the former as a shuffle featuring awesome guitar picking and the latter a pedal-steel celebration of bad girls.
The real surprise here is the singing debut of bassist Shonna Tucker who, after appearing on two previous releases steps up to the mic ad does an admirable job stepping into the big boots left by her outgoing ex-husband (Isbell) as third vocalist. Tucker's voice is without artifice and can sound both road-weary and vulnerable reminding me of Sammi Smith's with its purity. "I'm Sorry Huston" and "Home Field Advantage" give Tucker lots of room to stretch out and show the gals got what it takes.
With 19 songs not all of them will be gems but my MO is to celebrate the greatness of music and not dwell on what I consider lesser works or show what a clever prick I can be. All the dbt elements are here. Masterful tales of the down and out and the blazing guitar work all served up with a dark sense of humor and a helping side of Southern menace.

"Brighter Than Creation's Dark" will be in stores (and download) CD and 2 Record Set Vinyl on Tuesday January 22, 2008 (Monday January 21, 2008 in Europe).

Track Listing:
1. Two Daughters and a Beautiful Wife (mp3)
2. Three Dimes Down
3. The Righteous Path
4. I'm Sorry Huston
5. Perfect Timing
6. Daddy Needs a Drink
7. Self Destructive Zones
8. Bob
9. Home Field Advantage
10. Opening Act
11. Lisa's Birthday
12. The Man I Shot
13. Purgatory Line
14. The Home Front
15. Check Out Time In Vegas
16. You and Your Crystal Meth
17. Goode's Field Road
18. A Ghost To Most
19. Monument Valley