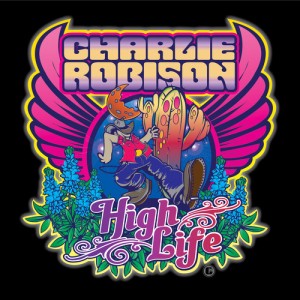 In Texas, the surname Robison carries with it a tone of songwriter reverence. Charlie, his brother Bruce, and sister Robyn Ludwick have created a long legacy as Hill Country singer/songwriters working in the local community as well as being covered by Music City.
On his new release "High Life," Charlie has some fun with classic and new songs. Band's Robbie Robertson's "Look Out Cleveland" and Bob Dylan's "When I Paint My Masterpiece." Robison also covers Austin legend Doug Sahm's "Nuevo Laredo." Of Sahm, Charlie says "My uncle was like a hippie around that time, and I remember cruising around Austin with him listening to Doug Sahm records and it was just so wild, the sounds he was getting. All that Sir Doug stuff just hit me really hard."
There are also a few gems by his siblings "Brand New Me" by Bruce and "Monte Carlo" and "Out of These Blues" by Ludwick. He also covers friend Bobby Bare Jr.'s rocking study on celebrity "Patty McBride."
Charlie seems to be having a lot more fun on this follow-up to the wonderfully introspective "Beautiful Day," My only question is, with a title like "High Life," (complete with Mr. Natural style cover art) where the obligatory Willie Nelson cover?
Buy High Life