Before he became the modern equivalent of Liberace and creator of Disney Soundtracks (1994's The Lion King with Tim Rice) Sir Elton John (Reginald Dwight to his mum) was the reigning king of 70's adult pop. Odds were if you tuned into an FM rock or pop station  (often they were the same station as genre segmentation was less rigid back then) within 5 minutes you'd hear one of his omnipresent truckload of singles.
Riding a wave of success his self-titled album (Elton John) had brought him Elton, and his writing partner and primary lyricist Bernie Taupin, released Tumbleweed Connection in October 1970. Though neither Elton or Taupin had ever been to America many listeners believed that the album reflected thier travels there but was in reality a convincing work of Taupin's fascination with the American old west. Taupin was inspired by hearing The Band's Music from Big Pink, Bob Dylan's John Wesley Harding, and The Grateful Dead's American Beauty and Workingman's Dead, as well as numerous country songs such as Marty Robbins' classic  El Paso (the song Taupin claims made him want to write songs) to create a somewhat thematically unified take on his own idea of the mythical American west. The sepia tinted album cover says it all. A picture of John on the front, and Taupin on the back, kicking back on an old western town's boardwalk.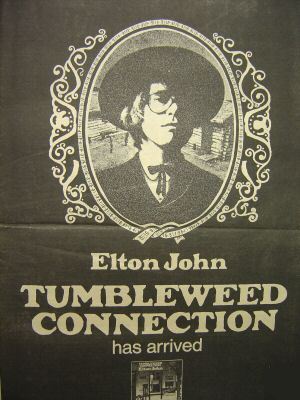 Tumbleweed Connection was the first time a road band had been used in the studio, making it more the Elton John band rather than just Elton on his own, and the bigger sound comes to life immediately on the blues-rock opener Ballad of a well-known Gun, the story of a gunslinger reaching the end of the road (though I prefer the more country-rock version found on disc 2 of the Legacy edition of TC) and My Father's Gun a moody study on a Southern son's legacy of avenging his father's Civil War death that builds to a dramatic finale'. Both songs feature the soaring backing vocals of Madeline Bell, Tony Burrows and blue-eyed soul diva Dusty Springfield.
Country Comfort is a bustling tune about John and Taupin's love for the countryside complete with pedal steel, harmonica and fiddle. John re-released the song in 2001 as part of the 'Earl Scruggs and Friends' album released by Earl Scruggs. Earl Scruggs played banjo on the song. The song was also covered by Rod Stewart and Juice Newton.
Son of Your Father is a blues-country rouser featuring a rare appearance by UK folk duo Sue and Sunny. Where to now St. Peter? is a pleasant if somewhat goofily-psychedelic tune that seems oddly out of place on this except the narrative seems to be about a man lost in the world and struggling for direction, so I guess it sort of fits. Love Song is the only non-John/Taupin penned tune on the album. Leslie Duncan wrote and performs acoustic guitar and background vocals on this melancholy beauty.
Amoreena might be my favorite cut on this album brimming with great cuts. Taken from the name of John's god-daughter, this great song about a young man yearning for his distant loved one is notable not only for John's great piano riffs but also because he is accompanied for the first time by bass player Dee Murray and drummer Nigel Olsson, who would form the core of his rhythm section until their departure in 1975.
The album concludes with the Gospel-inspired slow-burner (pun intended) Burn Down the Mission. This simple, but vague, story of a poor and oppressed community that sees the narrator rising up to take action to deal out some personal justice. This is the most orchestrated and cinematic (thanks to a large measure to Paul Buckmaster's string arrangements) of the songs contained here and John plays piano and sings with passion and fervor befitting its expanse.
For an album that spawned no singles Tumbleweed Connection stands as a testament to the musical greatness of John and Taupin, and is a heartfelt commendation of the mythical American west.  Guns N' Roses singer Axl Rose reportedly once said he would love to own the publishing rights to Tumbleweed Connection as a work of art. I'd say this is probably the first time that Axl and my tastes are in sync.
Panning for Gold is a random celebration of classic alt.country/roots/Americana releases of the past.

Elton John – Burn Down the Mission
http://www.youtube.com/watch?v=9BSBkhRZMic#sthash.3YUOobSV.dpuf