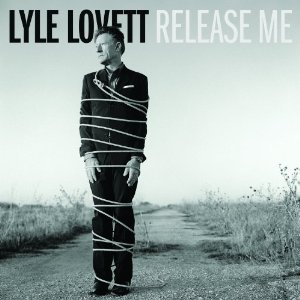 As a part of what Steve Earle called "Nashville's great credibility scare of the mid '80s." Lyle Lovett, along with Earle, k.d. Lang, Dwight Yoakam and others took up the traditionalist Outlaw mantel of the 70's and reinvigorated country music from it's soft-rock and Urban Cowboy influence the times.
Lyle Lovett's new album "Release me," exhibits pun in name as well as aesthetic. The album is the last for the Curb Records, the label for his entire 26-year. 11-album, career. And in case you missed that the cover art depicts Lyle tied up head-to-ankle in a lariat.
Though Lovett continues a late career trend of including cover songs. But this adios to Curb raises the stakes as it contains only two Lovett originals among the album's 14 tunes. You might conclude that this last release would be a weakened collection to meet contractual obligations. You would be wrong in that assessment.
Sure Lovett may not be the most prolific songwriter on the planet but he is one of the best interpreters of classic country. There is no one fit to polish Lovett's boots when it comes close to serving as a diplomat for the eclectic music styles of the Lone Star State.
"Release me" wastes no time offering a burning interpretation of the classic instrumental breakdown of  "Garfield's Blackberry Blossom." The number made popular in the 1930s by Fiddlin' Arthur Smith sounds both timeless and spirited in the hands of Lovett and his band.
The title track became a hit for both Jimmy Heap and Ray Price, both in 1954. Here it's done as a duet with Lovett and k.d. lang, who is so far down in themix her soaring vocals are lost. That quibble aside it's a great tear-in-my-beer standard well done.
The cover of Michael Franks' "White Boy Lost in the Blues" slinks in with the funky blues accentuated by Arnold McCuller harmony vocals.The gospel/R&B and Memphis horn-sound of "Isn't That So" works to a rousing effect and will probably kill live.
Understand You channels beautifully the tender-hearted cowboy Lovett has portrayed many time in his career. The cover of Brown Eyed is looser that Chuck Berry's original or the covers by covered by many including fellow Texans Buddy Holly and Waylon Jennings. But the song still carries the weight Berry intended after being inspired by witnessing a Hispanic man being arrested by a policeman.
The Ragtime-inspired  "Keep It Clean" dares you not to cut a rug and William Moore's One Way Gal is a fine-time front porch testament to a good woman.
"Dress of Laces" is an achingly lovely Daughter-Father twist on the classic murder ballad. White Freightliner Blues is one of the few up-tempo songs penned by the late, great Townes Van Zandt and Lovett plays it to it's full open-road greatness.
The two originals Lovett contributes to the album, The first is "The Girl With the Holiday Smile" (also on his 2011 holiday EP "Songs For the Season;") came from a real-life 1978 encounter young lady hiding out from the cops inside a Houston 7-11. This is my second favorite Christmas/hooker song (Tom Waits' Christmas Card from a Hooker in Minneapolis being the first.)  The second cut  "Night's Lullaby," which features Nickel Creek's Sara and Sean Watkins, was penned for a 2011 run in the Shakespeare Center Los Angeles' production of "Much Ado About Nothing" that the three appeared in.
I look forward to the work Lovett is free to explore in his new world as a free agent and am thankful he has left us with something this great to tide us over until the nest batch of surprises comes along.