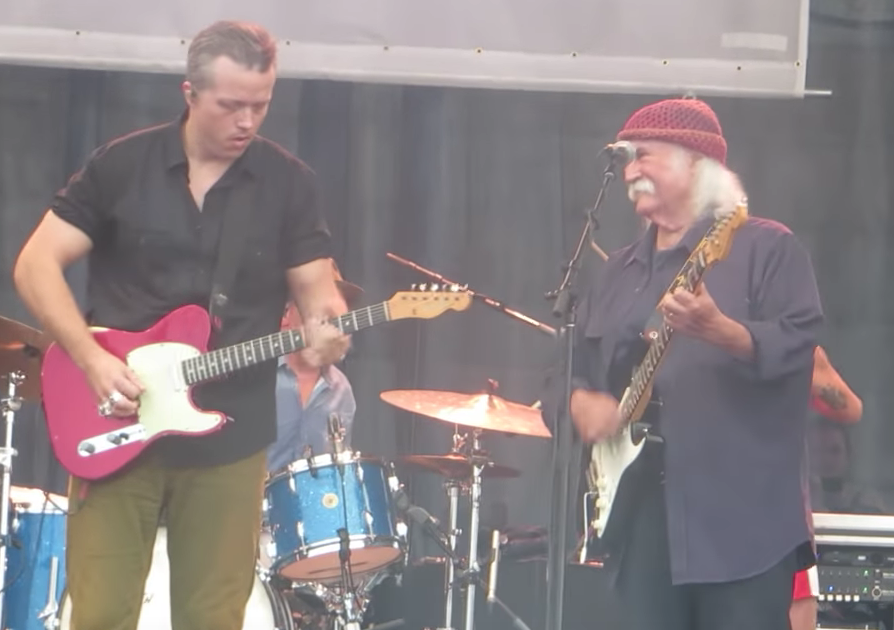 Folks attending the Jason Isbell And the 400 Unit performance at last Friday at the Newport Folk Festival were treated to one of those spectacular collaborations that can often happen at the storied festival. During the set Folk / rock legend David Crosby unassumingly strolled onstage to join the band on a couple of perform a pair of Crosby, Stills, Nash and Young classics from their 1974 release 'So Far.'
Isbell took time to speak to the bonds connecting him and other performers at this year's festival and artists of older generations, and how artists like Crosby effect social change with their music.
"The songwriters, the guitar players and bass players and banjo players and singers — they're all connected to the people that they were when they were trying to make things change," he said. "We need to get together and try to make things change."
Watch Isbell and Crosby perform "Wooden Ships" and "Ohio" at the 2018 Newport Folk Festival below.
Isbell and Crosby have had a budding bromance on Twitter for quite a while now so it was no surprise that once they appearing at there same event there would be some kind of collaboration.
I like Jason Isbell a lot …..is the country ? https://t.co/erEv4FOdlQ

— David Crosby (@thedavidcrosby) January 12, 2018
I love this and look forward to re collaberations between these men and more of the old guard reaching out to the new blood for same.