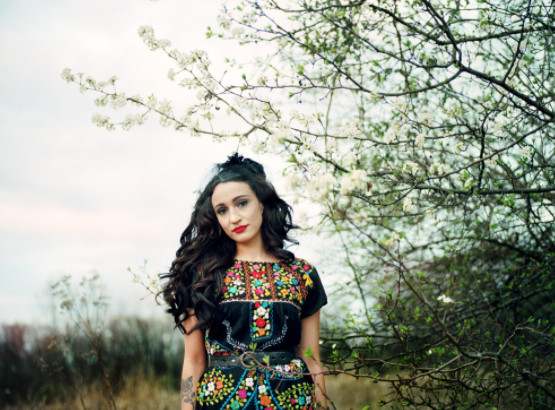 Canadian roots chanteuse Lindi Ortega has always blazed a unique trail her entire career, and her fifth studio record 'Liberty' is no appears to be
no exception. Due out March 30, 2018, Ortega wrote roughly half of the twelve tracks solo, and enlisted co-writers Aaron Raitiere, Bruce Wallace and John Paul White (The Civil Wars) for the rest. The result is a three-part concept album reflecting loss, seance, resurrection, and freedom.
The darkened journey progresses toward light starting with several unsavory characters in "You Ain't Foolin' Me" and even a lost love from childhood in "Til My Dyin Day." Then grief turns to desperation in "Nothing's Impossible" and "The Comeback Kid." However, the tides begin to turn on "Darkness Be Done," and about halfway through, with "Forever Blue," the character makes a choice to follow the light.
The track "Pablo" is inspired by her new husband, Daniel Huscroft. While they performed as a duo on a series of Chris Stapleton arena dates in Canada, Huscroft wore a poncho and grew a handlebar mustache — a look that led to a new nickname and a song title. 'Liberty' concludes with "Gracias a la Vida" from the pen of Chilean composer Violetta Parra. The title translates as "Thank you to Life."
"Even though I always tried to have a silver lining, whether it's by making my songs tongue-in-cheek, or writing some dark lyrics to happy music, there's always been an element of balancing light and dark on my previous albums," Ortega explains. "But this is a full story, and I want everybody to be able to take something away from it at the end of the day."
Pre-orders begin on Friday, January 19th.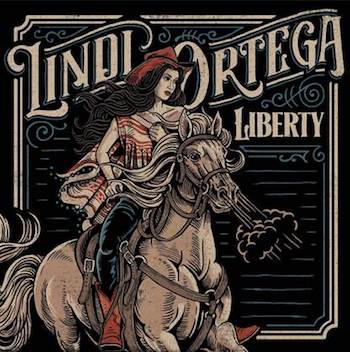 'Liberty' tracklist:
I. Through The Dust Part I
1. Afraid of the Dark
2. You Ain't Foolin' Me
3. Til My Dyin Day
4. Nothings Impossible II. Though The Dust Part II
5. The Comeback Kid
6. Darkness Be Gone
7. Forever Blue
8. In The Clear
9. Pablo
10. Lovers In Love III. Through The Dust Part III
11. Liberty
12. Gracias a la Vida
2018 Lindi Ortega tour dates:
Fri., Jan. 19 / The Basement / Saskatoon, SK, Canada
Sat., Jan. 20 / The Exchange / Regina, SK, Canada
Sun., Feb. 4-Sun., Feb. 11 / Cayamo 2018 / New Orleans, LA, US
Thurs., Feb. 15 / South on Main / Little Rock, AR, US
Fri., Feb. 16 / Knuckleheads Saloon / Kansas City, MO, US
Thurs., Mar. 15 /The Lyric Theatre / Swift Current, SK, Canada
Fri., Mar. 16 / Arden Theatre / St. Albert, AB, Canada
Sat., Mar. 17 / Empress Theatre / Fort Macleod, AB, Canada
Sat., Mar. 24 / The Tractor Tavern / Seattle, WA, US
Sun., Mar. 25 / Mississippi Studios / Portland, OR, US
Thurs., Mar. 29 / Moroccan Lounge / Los Angeles, CA, US
Fri., Mar. 30 / Soda Bar / San Diego, CA, US
Sun., Apr. 1 / Musical Instrument Museum / Phoenix, AZ, US
Tues., Apr. 3 / Stubb's BBQ – Indoors / Austin, TX, US
Wed., Apr. 4 / Club Dada / Dallas, TX, US
Thurs., Apr. 5/ McGonigel's Mucky Duck / Houston, TX, US
Thurs., Apr. 12 / Festival Hall / Calgary, AB, Canada
Sat., Apr. 14 / West End Cultural Centre / Winnipeg, MB, Canada
Sun., Apr. 15 / Dakota Jazz Club / Minneapolis, MN, US
Tues., Apr. 17 / Lincoln Hall / Chicago, IL, US
Thurs., Apr. 19 / Old Rock House / St. Louis, MO, US
Fri., Apr. 20 / 3rd & Lindsley / Nashville, TN, US
Sat., Apr. 21 / Eddie's Attic / Decatur, GA, US
Sun., Apr. 22 / The Evening Muse / Charlotte, NC, US
Tues., Apr. 24 / Union Stage / Washington DC, US
Wed., Apr. 25 / Rams Head On Stage / Annapolis, MD, US
Thurs., Apr. 26 Mercury Lounge / New York, NY, US
Fri., May 4 / L'Escogriffe / Montreal, QC, Canada
Sat., May 5 / The 27 Club / Ottawa, ON, Canada
Sun., May 6 / Neat Coffee Shop / Burnstown, ON, Canada
Mon., May 7 / Centre in the Square / Kitchener, ON, Canada
Wed., May 9 / Mod Club Theatre / Toronto, ON, Canada
Thurs., May 10 / Aeolian Hall / London, ON, Canada
Fri., May 11 / Mills Hardware / Hamilton, ON, Canada
Sat., May 12 / Queen's Grad Club / Kingston, ON, Canada