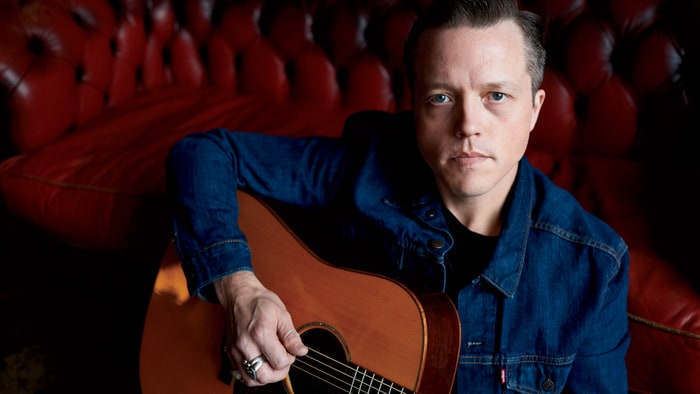 It's a new day in country music, that's what some might have you believe.
The Country Music Association revealed its nominees for the 51st CMA Awards on Monday on, fittingly, a morning variety show. I say fittingly because I'm certain that the CMA know full-well their demographic is shared by ABC's Good Morning America. Soft news, fashion, food, and entertainment, in other words, lifestyle.
The nominee list for Album of the Year must have sent many GMA viewers to Google the name Jason Isbell. Just like the Grammy's did by nominating Sturgill Simpson for Album of the Year alongside Adele and Beyoncé. The Country Music Association threw a seeming curveball to country music fans by looking outside the usually well-known names that comfortably rule the charts and mainstream country radio playlists.
Though Jason Isbell's nomination for AOTY might have taken many by surprise fans were aware of the brilliance from the start. They have followed his troubled but brilliant career, through his time in the Alabama Southern Rock band The Drive-By Truckers through his early uneven solo output. But starting with 2013's "Southeastern" up to his current nominated release "The Nashville Sound " Isbell and crew have been on a charmed run of critical acclaim, chart runs, late-night TV appearances and multiple industry awards. Isbell's always been a keen and genuine songwriter (as well as a badass and under-appreciated guitarist) To make this even more rewarding time Isbell enjoyed sobriety, married singer/songwriter Amanda Shires and started a family.
With a proven record of popular success the Country Music Association took notice. CMA is a trade group not known for taking chances with its award show, here they had an artist with critical acclaim, strong sales, and enough live cred to sell out a six-night stint at the Mother Church of country music, the Ryman Auditorium.
But Music Row Music Row adopted popular (pop) styles they believed kept the genre relevant and lucrative. Sinatra resulted in Eddie Arnold. Nickleback resulted Florida Georgia Line. This tactic has resulted in the genre becoming the #1 radio format in the country. Millions of album and ticket sales. Mainstream country has anticipated and met mass appeal as obsessively as McDonalds has tailored the McRib's limited release model. This has resulted business success. Nothing is left to chance.
Not even Isbell's nomination. Like nominee Chris Stapleton, Isbell is a low-risk way for Music Row to superficially address the recent bro-country backlash and give the impression to their customers that they're new and improved. You know, like detergent.
But Isbell's nomination, or even a win, will no more change the trajectory of Music Row than the nom/win would cause Isbell to start writing songs featuring dirt roads and girls in Daisey Dukes. Willie and Waylon didn't change things. Neither did Dwight and Earle. Though I'm sure then, like now, there was self-satisfied chatter that Music Row finally changing for the better.
But better for who? I love the music of Americana and a recognize it's richness, but I also recognize it's not for everyone. Nor would I want it to be.
Much like the political landscape, there's an element of one portion of the country wondering what the hell is wrong with the other portion. How could they possibly vote…er…listen to such garbage? There very little understanding of the fly-over states but plenty of tongue-clicking judgement. It's the most vile form of arrogance, the kind disguised as empathy.
Music Row has taken Mark Twain's statement about his own work, 'My books are like water; those of the great geniuses are wine. (Fortunately) everybody drinks water.' as it's guiding principle of its own output. Music Row has a laser-focused bead on the NASCAR masses and work tirelessly to meet their market-tested needs. The resulting music doesn't appeal to snobs like myself, nor is it designed to. But it makes millions happy with it's Friday Night Lights scenarios appealing to a folks yearning for wholesome simplicity in an ever more complex world.
It's not just music, it's a psychological backdrop of hope, nostalgia and a little fear of the unknown. Whatever you think of that concept there's no denying that it's worked as a potent brand to adhere those desires to their product.
Isbell and his band deserve all the success, awards and resulting revenue currently coming their way. They came to it the hard way, roadweary and hard pressed (remember when their equipment trailer was stolen after a gig in Dallas?) Music in it's purist form.
Mainstream Country and Americana are first cousins that fight at family gatherings. Both share the same cultural, thematic and instrumentation roots but each have taken them in their own direction. In many ways each exists as a result of the other. Alt.country spawned as a Johnny Cash finger response to the gloss of 80's country. Americana to Bro-country. If one were to cease to exist the other would suffer in it's unique role.
Any Americana artist that can, just for a moment, pierce the veil of Music Row's brand to remind the world how inspiring and challenging music can be has done something special and hopefully enriches the cultural landscape and gives hope to aspiring country music artists that there's something more to sing about than old trucks (maybe just in a more poetic way.)
Let's just try not to be arrogant music dicks while all that greatness happens.
The 51st CMA Awards Monday, Nov. 8 at Bridgestone Arena in Nashville and will be televised on ABC.