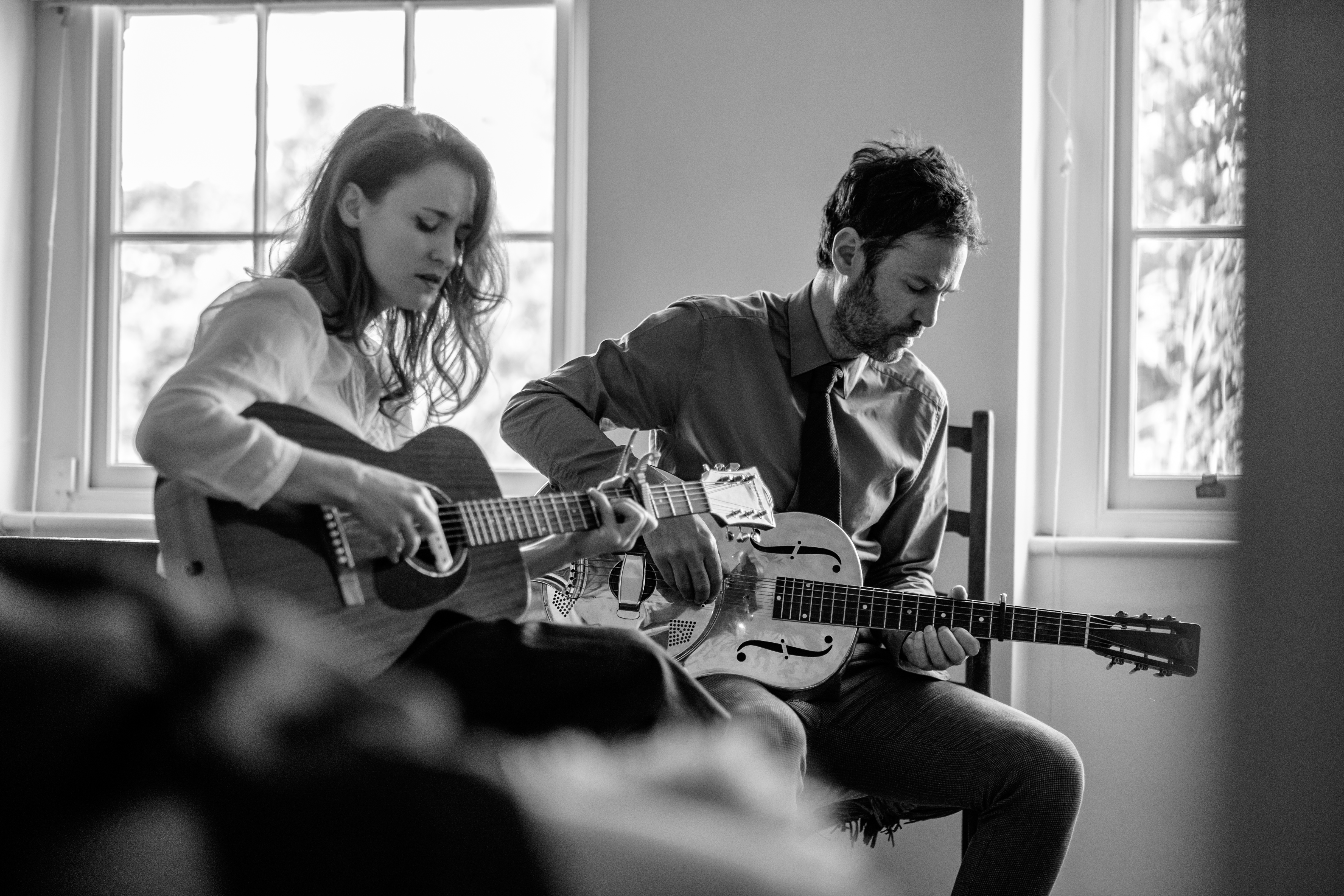 A sun-stippled leafy local contrasted against an urban backdrop is the setting for American Dawn Landes and the British Piers Faccini's "Book Of Dreams" video. The song is torn from the Nick Drake handbook of forlorn beauty, with their guitars and voices swaying and dipping together in this recounting of passing years and shedding personas.
The two songwriters met in 2013 when they recorded a Lead Belly song for Faccini's cover project, 'Songs I Love.' Later that year, Piers invited Dawn to France to perform in a 12th Century Romanesque Chapel in the remote Cevennes region of the south of France near Piers' home and studio. Inspired by their first experience of performing together, they met up a few months later to write and record the intimate suite of songs that would become the EP, Desert Songs.
"Book Of Dreams" can be found on their new EP. From the presser covering that recording: "The bare autumnal skies and rugged mountainous landscapes provided the perfect backdrop for their collaboration. In between sessions, they walked the footpaths in the hills around the studio, swapping tales of the mystics and seekers that inspired the stories and lyrics in 'Desert Songs.' Where Dawn would quote the Desert Fathers or Thomas Merton, Piers would would cite Sufi poets Rumi and Hafez or the poems of St John of the Cross. Dawn and Piers wove the arrangements together using the rich collection of instruments in Piers's studio, a Malian Kora, a 1930's National resonator guitar, West African percussion and an Indian dulcimer and tampura. Back in her Brooklyn studio a month later, Dawn recorded drum parts with Ray Rizzo. 'Desert Songs' was then mixed in NYC by Pat Dillet."
About the video's location Landes says "Piers and I were playing a gig together in London and discovered this bandstand nearby. Turns out it's built on the rubble of an old rookery called Friar's Mount. That seemed to fit the themes of our EP Desert Songs, inspired by mystics and seekers.
Dawn Landes is from the Louisville, Kentucky area but has called Brooklyn, New York home for years. As a solo artist she has released five full-length albums and two EPs. She has toured throughout the US, Europe and around the world, and shared the stage with Ray Lamontagne, Feist, Andrew Bird, Suzanne Vega and others.
Faccini has collaborated over the years with many musicians and singers including Rokia Traore, Busi Mhlongo, Ben Harper, Ballake Sissoko, Vincent Segal, Camille, Francesca Beard, Ibrahim Maalouf and others. Piers Faccini's most recent album Songs of Time Lost was in NPR's top 10 world music albums of the year as well as in Songlines UK's 10 best albums of 2014.
'Desert Songs' is out now in digital only format on Six Degrees Records.