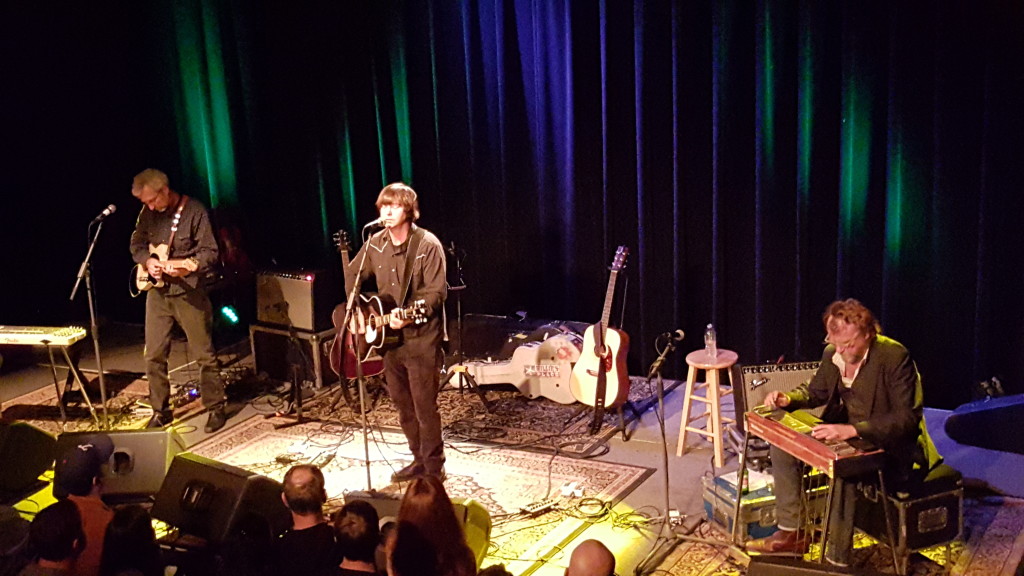 A little over 21 years ago Jay Farrar walked away from, if not the first alt.country band, certainly the most influential one.
Uncle Tupelo's 4 studio album distilled a potent blend of punk fury, rock chops, and reverence to folk and country heritage. But the brighter the light the sooner the fizzle and after a mere 7 years Uncle Tupelo gave way from the figurative and literal combat between the two primary members, Farrar and Jeff Tweedy, who parted ways to found and steward Son Volt and Wilco respectively.
Farrar carried the honest and forthright aesthetic to his next venture , Son Volt. Their debut, "Trace" was in many ways a perfect follow-up to UT's sawn song 'Anodyne.' "Trace" was an album that made the pain of the band's demise even more acute while at the same time reassuring fans that someone was stewarding that sonic treasury.
This night was a celebratory look back at the back-looking album on it's 20th anniversary.
Jay Farrar ambled on the Kessler Persian rug-laden stage looking like he'd not aged a day from the 20 years since the namesake for this event. Billed oddly as Jay Farrar playing the music of Son Volt's 'Trace' to underscore this wasn't a reassembling of older or current varieties of the his band. No, this was a brief tour with two skilled side men – pedal steel player, Eric Heywood, along with multi-instrumentalist, Gary Hunt.
Farrar has never been known as a chatty front man and with a simple "Hi," a boyish grin and hair in his eyes the band launches into a spirited rendition of 'Live Free.' Yes "Windfall" is the first track on 'Trace,' but this is Farrar's show and he'll sequence the songs in any damn order he chooses.
And the packed house doesn't care either as whoops erupted over the swelling instrumentation and Farrar's voice. That familiar voice which now exhibiting a road-worn lower register, but still contains a earnest delivery that slips in-between the melodies in it's quirky odd timing. The wonderfully swervey "Catching On" and the crowd joined in as a full throated singalong to the bittersweet "Tear Stained Eye."
The show locked into a smooth groove just in time for the stutter stop jam of the Ronnie Wood cover 'Mystifies me." Heywood and Hunt faced off in what Farrar described as a "pedal steel cage match" that was less competitive than playing off each other in lovely harmonic wails on the gloriously dark and yearning "Ten Second News.'
Farrar announced "We are now entering a post-Trace world" before breaking into his acapella opening to 'Wild Side' from 2013's excellent 'Honky Tonk" that transformed the listening room into a swaying, joyous ocean. "Back Into Your World" from the 1997 album "Straightaways" closed out the main set on a warmly glowing note.
The band seemingly had just walked off the stage before returning and encoring with the rousing 'Afterglow 61″ from 'Okemah and the Melody of Riot' and and a dreamily , almost unrecognizable version of Bob Dylan's 'Rainy Day Women #12 & 35."
Farrar and company have carried the alt.country torch lit by Uncle Tupelo more truly than Tweedy has with Wilco, and though market forces have rewarded Tweedy for his sonic ventures this night proved that there's still fans of honest and simple tunes.
Live Free
Catching On
Tear Stained Eye
Out of the Picture
Loose String
Route
Mystifies me
Too Early
Ten Second News
Drown
Windfall
Wild Side
Back Into Your World
Encore:
Afterglow 61
Rainy Day Women #12 & 35 (Bob Dylan cover)