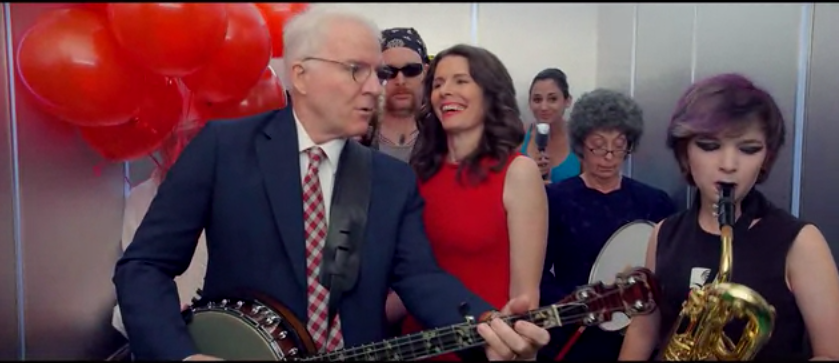 This is not a video for the claustrophobic. This whimsical video follows a red dressed traveler – Edie Brickell, of Dallas' own Edie Brickell & New Bohemians – entering an elevator to be met by a jovial banjoist, Martin. As the song "Won't Go Back" build into a bluegrass meets Brill building 50's pop the elevator fills with a cast of diverse characters each with a part, and an instrument, to play.
Come for the fun. Stay for the music.
Steve Martin cheekily tells vanityfair.com that the video was three years in the making and was a delight to work on," says of his and Edie Brickell's song "Won't Go Back." Martin continues, "Especially wonderful to work with was "hey you" (our director) and "hey you" (our costumer), and I am deeply indebted to "hey you" (the woman who sang)."
"Won't Go Back" is from their upcoming second studio LP, 'So Familiar' out Oct 30th. Pre-order here.