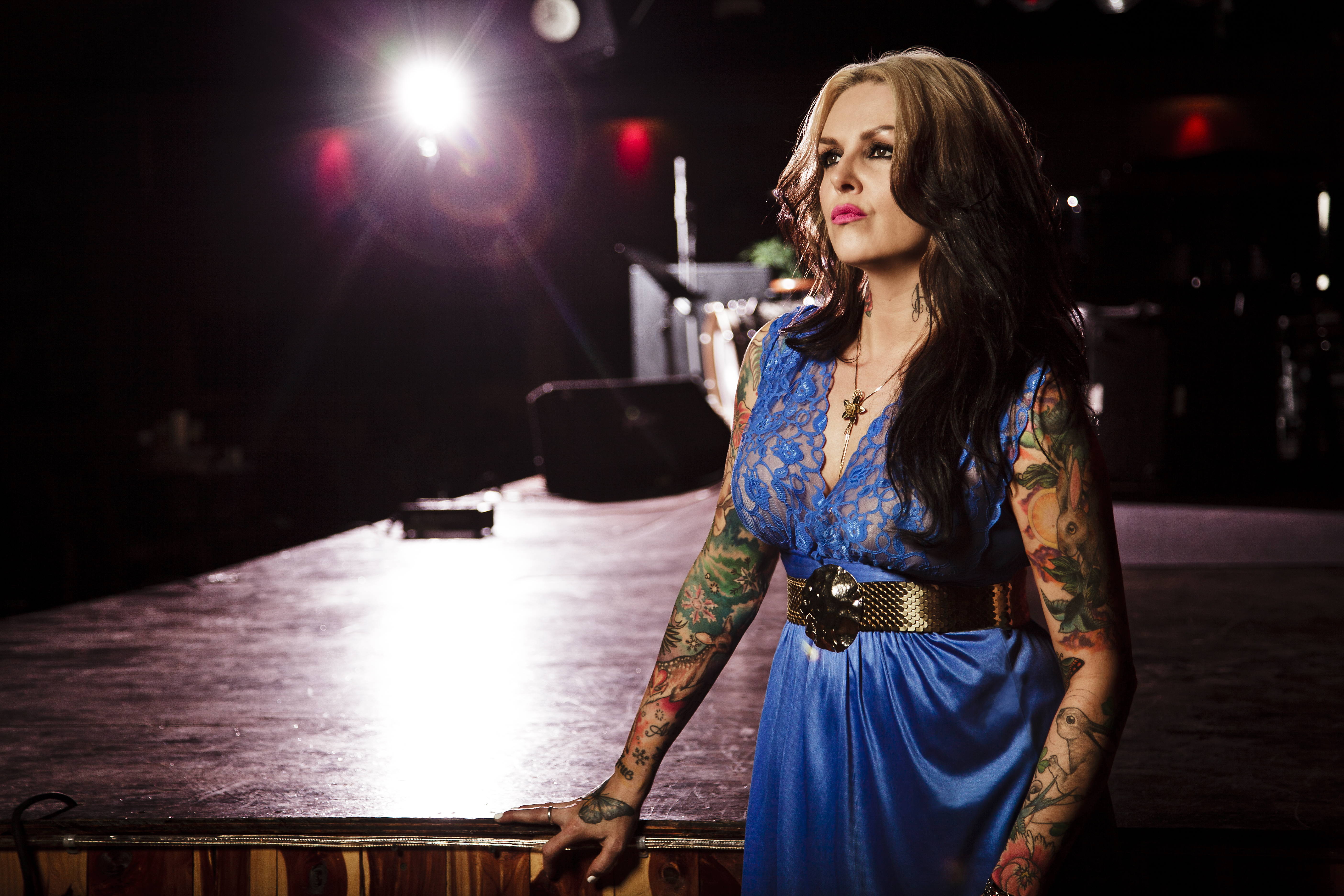 Photo by Amanda Van Sandt
Dont think of Sarah Gayle Meech as a country music revivalist. Like her musical peers Kacey Musgraves and Sturgill Simpson she's the contemporary version of classic spirit. The spirit of honesty, human complexity and a little ass kicking bravado.
This is a spirit that Music City, in an effort to produce, replicate and deliver mass consumable cultural products, has abandoned by design. Too risky. If there's anything big business hates it's risk. But Sarah Gayle Meech is not afraid of risks. She appears to feed off of them.
Her inked physique, and rockabilly-ready style, puts her aesthetically at odds with the blonde cheerleader Music Row clones. She's disruptive in looks and in talent, not willing to back down from hard topics and hard twang. She's taking on the mainstream Bro-Country the way that Dwight Yoakam and Nanci Griffith took on the 80's Urban Cowboy fad. Great songs, well played, that feel real.
Meech took time from preparing for her newest album release, 'Tennessee Love Song' March 31st, to answer a few questions.
Listen to 'Loneliest Place In Town' below.
Pre-order Tennessee Love Song
Twang Nation: With your shows at stages like Robert's Western World and Layla's Bluegrass Inn, you've become the honky-tonk queen of lower Broadway. This is not an easy crowd to impress. Take me through your music journey from California to this point.
Sarah Gayle Meech: Honky tonk queen, I love it! I've been in Nashville now 5 years from LA. Started playing lower Broadway almost 4 years ago. I dove into the Broadway shows because I wanted to learn more and play music for a living. When I saw the level of skill the lower Broadway musicians had, I was pretty floored. At any given time of the day, some of the best players in the world are down at those honky tonks playing a 4 hour show for tips. Pretty unreal, definitely like no other place in the world. I had done a good deal of singing and playing before moving to Nashville, but I was nowhere near the level of these musicians. After a lot of persistence and getting to know players, I started landing my own shows, that eventually turned into residencies at Layla's Bluegrass Inn and Robert's Western
World. I have tremendous respect for the players down there, and feel fortunate to have a home base.
TN: You were awarded the Female Outlaw of the Year 2nd Annual Ameripolitan Awards in Austin earlier this month. I know the awards founder (and your friend) Dale Watson's interpretation of 'Ameripolitan.' do you think it's distinct from country or Americana music?
SGM: Winning this award was a great honor. It's so inspiring to see the passion of the fans and creators of this movement. I think what Dale is trying to establish with Ameripolitan is what country music used to be. When country music was defined by the sounds of Hank Williams, Loretta Lynn, steel guitars, fiddles. Nowadays, "country" music is stuff like Florida Georgia Line and Taylor Swift,
which is clearly pop/rock music. It seems a lot of fans are confused and are wondering what happened to "country" music, so many lines have been blurred. Ameripolitan is staying true to the traditional sounds and roots of country music by embracing the styles of honky tonk, rockabilly, western swing, and outlaw. In case you're wondering what happened to real country music, Ameripolitan is the new home.
TN: "Tennessee Love Song," your follow up to your debut 'One Good Thing,' was partially supported by Kickstarter campaign which was funded, and then some, by your fans. Why did you decide to go the crowd funding route, and would you do it again?
SGM: I'm an independent artist, 100%. Making an album can be very expensive. I funded the recording and mastering of the album on my own. When it came time to release the album, I needed help. That's when I decided to give Kickstarter a try. I sat on the fence about running a Kickstarter campaign for awhile, the idea of failure freaked me out. But the more I thought about failing, the more I wanted to kick it's ass. It was a successful campaign and has allowed me to launch Tennessee Love Song. The whole Kickstarter campaign was a lot of work, but very worth it. It also gave me a lot of inspiration to have the support of so many people, for which I am truly grateful. Yes, I would do it again.
TN: Like your debut you tapped Andy Gibson (Hank Williams III steel/dobro player) as producer and session man. What does he bring to the table that had you going back for a second helping?
SGM: Andy is a super talented musician and a good friend. I was introduced to Andy by Bob Wayne, heard the album they were recording and thought it sounded fantastic. His style of recording and playing doesn't sound like anyone else's, it's unique with lots of character, exactly what I was looking for. We work well together and I get the creative freedom I need. He has a great ear and is proficient on many instruments.
TN: You co-produced on the new album, how did that change things?
SGM: This time around I chose all the players, wrote and arranged all the songs/ instrumentation…I was more hands on for this album. When I recorded my first album One Good Thing it was a huge learning process. Having one album under my belt helped me navigate better through the process of the 2nd one. I had a clear vision of where I wanted 'Tennessee Love Song' to go, and was able to
achieve it.
TN: You have said you are partially inspired by Southern Gothic literature. What
author inspires you most and why?
SGM: I like the characters and themes of Southern Gothic writing. Seriously flawed people in dark situations, but with an underlying charm. I've always been drawn to people with immense character and grit, and have the grace to carry it. Tennessee Williams and Flannery O'Connor are among my favorites, their stories and real life struggles resonate with me.
TN: What performer that has passed would you like to go back in time and share the
stage with?
SGM: Big Mama Thornton, that would be something!
TN: You are featured on on the new season on ABC's Nashville. The programs has done a great job of being Music Row soup while sneaking in songs and cameos of some of underground Nashville's best. How did that gig come about?
SGM: I was playing at Robert's Western World one night and the producer of Nashville was there. He got my cd, and about a week later I got a call from the music supervisor saying they were interested in having me perform my 'song One Good Thing' on the show. The whole experience was really great, it was a pleasure being part of the show and working with the crew.
TN: You also has a song from your debut, 'Sound of a Heartbreak', featured on the FX TV series Justified episode 5, "Shot All To Hell." Do you see television and movies
as a way to get in front of a different audience?
SGM: Definitely, it exposes you to new fans. As an independent artist, it's a great way for my music to reach people all over the world. Justified is a great show, I
was really excited to hear my music on it.
TN: You'll get to share the bill with Merle Haggard, as well as Wanda Jackson and others, at the first annual Ink n Iron convention in Nashville this summer. As the late Chris Farley might say, "That will be
awesome." I assume that's your take?
SGM: Ink and Iron is coming up August 7th through 9th…I am honored to be included in that lineup! Just being on the same lineup as Merle Haggard is seriously awesome.
TN: What's next for you? Any secret projects?
SGM: I'm working on my home recording skills…I've got a long way to go, but I want to record an EP on my own, real primitive, stripped down. The wheels are already turning for album #3…oh, and I'm learning to play the drums. The journey continues!