Billy Joe Shaver will laws be a welcome sight at Casa Twang. Shaver was the first interview I conducted of this blog and his generosity and great stories fueled me to keep at this because there is still great music comes from the
adventurous kind.
Shaver's 's latest work, "Long In The Tooth," shows he's still got some adventures to partake in.
Though done in the style that Nashville pop-stars like to slag as "Grandpa music," "Long In The Tooth" has Shaver digging deep in the soil of 70's Outlaw Country. A movement that Shaver helped cultivate, and that those Music City marionette's claim allegiance to.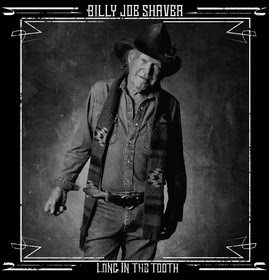 Shaver penned all 10 songs and they're is all you'll need for a state of the state. Politics, war, religion, class divide, love, heartache, and yes, the sad state of the country music.
The first cut Hard To Be An Outlaw" features Shaver's old pard and character witness, Willie Nelson, this is a
hat-tip to the Country Gold OGs as both a nostalgic lament and a scrappy swipe at Music Row pop-country. "The Git Go" is a loping study in fatalism/destiny lament covering class disparity in politics made even more forlorn by Mickey Rafael's mournful, nuanced harmonica.
"Music City USA" features a more jaunty, and optimistic view of Nashville as a place where dreams, a great music, can still be had.
Love is alive on this album. "I'll Love You as Much as I Can" is a sweet waltz sang to a longtime sweetheart. "I'm in Love" is reworked from 1998's album "Victory," and, though a tad more world-weary, it's still pure poetry.
Another contemporary Outlaw of sorts, Todd Snider, goosed Shaver into making this album by making him realize he still has a lot to give. We are lucky he did. Nobody would fault Billy Joe Shaver if he took to pasture and rested on his many laurels. But by the sound of "Long In The Tooth" he's not ready to pack in that guitar just yet.
Official site | Buy Long in the Tooth