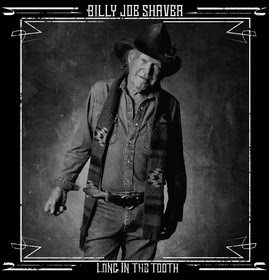 Attention all Outlaw Country fans. I mean the REAL deal type.
On August 5 the legendary Billy Joe Shaver will release Long in the Tooth on Lightning Rod Records. The album will be release just before his 75th birthday on August 16. Of the album Shaver says it's "the best album I've ever done."
"Each song is different with different beats and different kinds of music," he says. "I even have one rap song. The titles are all so catchy like 'It's Hard to Be an Outlaw' and 'The Git Go.' Those are pretty hard to beat. Songwriting is gut wrenching, but if you dig down and write real honest you'll find something real great. I believe everybody should write. It's the cheapest psychiatrist there is and, God knows, I still need one."
"I've written a lot of great songs and I'm still writing great songs, but I felt neglected. I have been, actually. The reluctance to play old people's music is as bad as it was to play young people's music. I think it should level out where everyone can hear good art, but it seems like radio doesn't play older people's music. Man, it's like throwing out the Mona Lisa. I don't understand, but I'm just so proud of Long in the Tooth. This record will be a gigantic step."
As lauded a songwriter as Shaver is, he needed some convincing by none other than Todd Snider into making Long in the Tooth. "I didn't think I had another hope in the world of doing another studio album," Shaver says. "Then Todd Snider encouraged me to come up to Nashville and I listened. I knew if I didn't come out with new songs, it wouldn't be right. I've promised hundreds of critics that I would. So, I just buckled down and got the new songs together. Sure enough, it turned out great."
I've seen Shaver live a few times over the past few years and I'm here to tell you he's lost none of his fire and wit.
Long in the Tooth. is produced by Ray Kennedy and Gary Nicholson, and features appearances by WIllie Nelson, Leon Russell, Tony Joe White, Shawn Camp, Jedd Hughes, Joel Guzman and others.
Rolling Stone premiered the Billy Joe Shaver and Willie Nelson duet, "Hard to Be an Outlaw" (hear it below) The song is both a nostalgic lament and a swipe at Music Row pop-country. "Some superstars now days get too far off the ground, They sing about the back roads that they've never even been down. They go and call it country but that's not how it sounds. It's enough to make renegade want to terrorize the town."
It's not much of a stretch to imagine the town these texans imagine terrorizing would be Nashville.