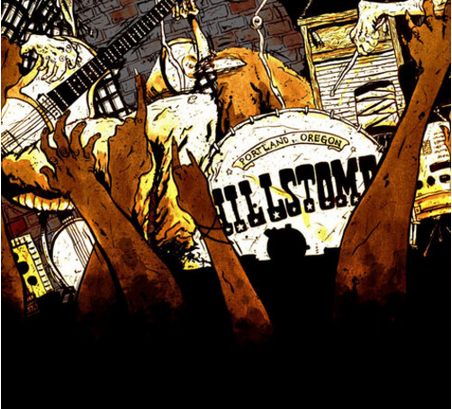 Portland Oregon's self-described "junkbox blues duo" has a new song "Don't Come Down" that offers some of the heat and ramshackle alchemy of Henry Christian (Guitar) and John Johnson (percussion), but with this cut there's more.
From the guitar loop running throughout and the reverbed, lonesome vocals, there's a beautiful menace and a work of a deft subtlety pointing to a richness and bravery in flexing their musical brawn.
"Don't Come Down" is from Hillstomp's upcoming, 4th full-length release "Portland, Ore" out April 15. The album is their first on Fluff and Gravy Records and features 10 new tracks and is mixed by Chet Lyster of Eels, and produced in conjunction with Kevin Blackwell of Sassparilla.
The record will be available on CD and LP, and can be pre-ordered here.