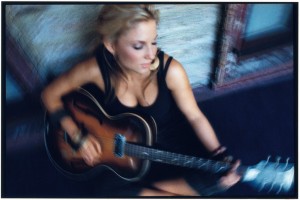 While attending the Americana conference and Festival in Nashville I took some time to head roughly 25 miles south to Franklin TN to chat with South Carolina singer Julie Roberts. I arrive at a house in a quitter residential neighborhood ringside by farms (I know, I took a wrong turn and was lucky enough to see their beauty.) The house was a single-story pleasant homes any where any family might dwell. But as Roberts sweetly welcomes my arrival I enter a state of the art music studio with all the tech and instruments (bedroom set of as a drum room) to make a hit album.
Julie hopes her new release "Good Wine and Bad Decisions" is a hit record.
Of course the lady knows a thing or two about a hit record.
Roberts burst into the mainstream country music spotlight in 2004 with there hit "Break Down Here," which reached #18 on the Country chart. That song was from her self-titled Mercury debut. That and the follow up, "Men & Mascara," hit the top 10 of the Country Albums chart. Her new alum, "Good Wine and Bad Decisions" is her first release in seven years and it's a sea change for the artist bit in style and in approach to a industry
When asked about her time on Music Row, and her albums made there, Roberts says "There was a big difference between the first record and the second record sonically. on the first one we would just come to the studio like this home studio and it; was just me and Brent (Rowan), my producer. Nobody came around until we were done. We were able to focus on our vision, on the music.
"For the second record (Men & Mascara) we worked on Music Row and people were around all the time and it was kind of nerve-racking. it's hard not to want to please people. People pleasing is a part of my personality i'm trying to change (She laughs – Roberts laughs like she songs, full-throated and unguarded.)
"After the second record i moved to L.A. to work with Lifetime on a story of my life , around my life with my mama and our time in South Carolina. moving to Nashville. There was also the story of me working for Luke (Lewis, then the head of Mercury Nashville Records) that we thought would be a good story. So while in L.A. I was working with Tom Rickman who wrote the screenplay for Coal Miner's Daughter for Loretta Lynn. So I had to move to L.A. so he could get to know me. After a year of living out there, and taking acting lessons, I realized I had spent all my life savings on L.A. rent!"
"I called Luke and told him I was ready to come back to Nashville and record my third record which would have some of the songs that were to be featured in the movie. The heads of Lifetime kept changing the date of the movie's release. Luke thought the album wouldn't be as strong without the movie so he shelved the album. Sometimes it takes a year to make a movie in Hollywood. Sometimes it takes ten. I had no idea what category I was in! Luke said he wasn't going to release the album without the movie. So I asked him to let me go, I wanted to make music. And he said "yes." I still owed him more records, but we had a history, we're still friends. Leaving Universal was done on good terms."
"The same week that I left, the Nashville flood came (May 2010) and we lost our home, everything. So the rest of that year I stayed Nashville rebuilding our lives. I live with my mom and my sister. While working on the house I started with Jason (Collum), my band leader since 2006, to release my first independent album "Alive" as well as my Christmas Album "Who Needs Mistletoe" (both in 2011.) This was really great for me because i was able to make music while dealing with rebuilding our lives."
"Also during that time, I came out publicly that I had MS. I was diagnosed in 2005 but kept it quiet. There's a lot of misconceptions about what that can mean and what you can do. And I was afraid."
"I had everything I had always dreamed of. My mom with me, a happy home and a record deal in Nashville. We came from a not so happy place, My daddy was an alcoholic. That may be part of the reason I love country music. I can relate to a lot of it."
"It was a really difficult time but I needed to be honest with my fans and tell them about my MS. they needed to know what I'm going through and that I'm doing great. I take medication, I work out, I eat right. But now I feel it's part of my purpose to keep making music and following your dreams even in the face of adversity."
Roberts works with the Muscular Dystrophy Association The Multiple Sclerosis Association Of America to raise awareness and money by performing at local events. She also receives letters from other folks with MS that hold her as an inspiration. "I got a letter from a single mom who read one of my Facebook posts. She said she was going back to night school to be a teacher." I feel like this is a part of my new path."
"I try and do what I can. Golf charity events. Wine events. I like wine! (laughs) There was an amazing wine event and we played it. We made a lot of money for the National Muscular Dystrophy Association. We work a lot with the local Nashville chapter too. I do what I can. I want people to see that MS is a part of me."
Her destiny with the legendary Sun Records was a path of fortuitous circumstance. Sun had been working with Nashville-based Make Noise Management, licensing its expansive, extraordinary catalog for film and TV advertising. The Vice President of Sun, Collin Brace, had been leading the way for branch expansion and was searching for opportunities. Under his direction Sun has made deals with Converse, Mercedes-Benz as well as a series of Sun Sessions, live performances recorded in the famed memphis studio by musicians like Justin Townes Earle and Grace Potter.
CEO of Make Noise Management, Josh Collum, recalls discussions with Brace around bringing in a new artist (the first in decades) to reboot Sun. "We had been talking to Collin about reviving the label under a new artist instead of it just being in the business of licensing , which is good business, but it's not brining in new talent. well, the stars aligned and Julie freed up from a few things and John (Singleton. He along with his brother, the late Shelby Singleton, have owned Sun since the late 1960s) loved her. He got behind it 110% in June, and we've been on a roller coaster since then getting the label turned back on. We started making the record and here we are 6 weeks out from release. "
When asked how it feels to be the contemporary face of the label that launched the careers of Elvis Presley, Carl Perkins, Johnny Cash, Jerry Lee Lewis, B.B. King, Howlin' Wolf and other legends Roberts doesn't hesitate.
"It's exciting, but there's definitely pressure. All those great artists. And each one unique in their own music. I'm proud that this record, "Good Wine And Bad Decisions," is my music and unique to me. I put everything I had into this record and I think it'll stand up to their legacy."
"I think it's humbling. When we first went to meet John at Sun with Julie we were sitting in that office. At the end of the meeting Julie and John got up and shook hands and John said "Welcome to Sun records. At that point it go real." Collum, whose been sitting by us, adds.
Julie remembers it a little differently. "It was a really surreal moment for me. Before the meeting I had been looking at these plaques from all these amazing artists. I was amazed. But at the end of the meeting John actually hugged me, he didn't shake my hand (That laugh!) Which is even better! Then he said "Welcome to the Sun Records family." It brought tears to my eyes "
"When we were planning the record John asked me to look through the catalog to see of there was anything I wanted to use for the record. There was a lot to consider. We wanted to choose something that fit and hadn't been covered a lot. Josh gave me a hard drive of about 10,000 songs. As I was going through them John sent me an email recommending the song "He Made a Woman Out of Me" (first cut by Rita Remington and later by Bobbie Gentry) I just loved it. I thought it fit my type and I loved that he thought of me for the song."
The song is cued up. It's a pop-swampy number that reminiscent of another storied studio, Muscle Shoals. There's a groove that hangs like a humid night as Julie wraps her powerful voice around this, sultry Southern risqué tale of backwoods coming of age. I look over at Julie, she's intently listening, but she's smiling.
Buddy Miller, Vice Gill and harmonica virtuoso Mickey Raphael all make appearances on "Good Wine And Bad Decisions." I've always been a fan of Buddy. Julie Miller wrote "I Can't Get Over You" from my first album. We had been covering Buddy's ""Gasoline and Matches" on the road for a couple of years. When we asked him to song on it for the record he remembered my version of Julie's song and said he loved it and would honored to sing on it.
"Vince Gill sang on two tracks on my first record and we sent him "Old Strings' and told him I'd love for him to sing on it if he liked it. And he did." 'We asked Willis harmon a player, Mickey Raphael , to play "If I Were You" and he was awesome. Just knowing what he's done. We knew he had played I'n town with Amos Lee and we figured out we reached out and asked him to play on the cut. ' This makes me wonder who says no to this woman. When I ask her she just laughs (!)
Julie tells me about the next song "Old Habit "I wrote the song for my Mom. She's dated this guy since moving to Nashville, they go out on Saturday nights. One Saturday I asked if she was going on a date that night and she said "No, I think I'm going to tell hime I can't." She said "I never hear from him the rest of the week and I'n starting to feel like an old habit." That was it. A song was born "Thanks mom!"
When I mention that music row and mainstream county radio will probably not be receptive to "Good Wine And Bad Decisions" more retie and soulful sound. As far as I could tell there was not one tail-gating song on the whole album! Collum says with a grin "There is a definite edge to the record. This is defiantly not a mainstream record. This is more Americana than it is Music Row. From a strategy point of view we are looking forward to kicking their ass by not playing by the rules."
"This album is important to me. It's very personal and I'm very proud of it. I can't wait to take these songs on the road and share them with my fans."
Roberts was always too genuine to last on Music Row and I believe that "Good Wine and Bad Decisions" will be welcomed by her life-long fans, and find new fans of great, soulful roots music.