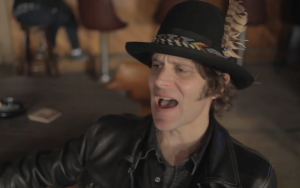 Boo Ray's "Boots and Blue Jeans," from his current release "Six Weeks In A Motel" carries a heap of grit and soul. The video filmed at the legendary Johnny's Tavern in Nashville, TN by Daniel Henry & Price Harrison show folks having a high time. The kind of folks that would drop quarter after quarter to play this hotnumber.
Ray's time raised in the western mountains of North Carolina has given him a sensibility for southern and roots rock in the vein of Lynyrd Skynyrd and The Faces. melody with bite and brawn. This is 100 proof with an ear for a hook.
"Six Weeks In A Motel," the Boo Ray's follow up to 2010 release "Bad News Travels Fast."
The musicians featured include Steve Ferrone on drums (Tom Petty and the Heartbreakers), Jimmie Lee Sloas on bass (Keith Urban, Reba McEntire), British guitar virtuoso Sol Philcox, and Bruce Bouton (Randy Travis, Emmylou Harris, Ricky Skaggs) on pedal steel.