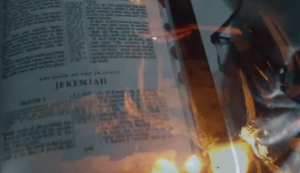 Mississippi-native Jimbo Mathus knows a thing or two about marrying theater and music. As a founder of the Squirrel Nut Zippers Mathus helped usher an unlikely swing resurgence of the 90s by deftly tapping into the style and energy of early-twentieth century American music and moded it out for millions of late twentieth-century fans.
The video "Run Devil Run" has Mathus portraying a backwoods preacher filled with the spirit as he and the Tri-State Coalition slink and slide with tribal drums, moody organ and punctuated guitar in a variation of the blues.
Sin and salvation are plumbed as images are layered over whimsically creepy Fleischer Brothers style animation.
The song slowly simmers like a southern summer until the preacher wrestles with Ol Scratch. himself who seems to be a feeble opponent. Though it could be a ruse. He is the King of Lies after all.
Mathus says of the video: "Run Devil Run" offers a rare glimpse inside a genuine North Missisippi shack seance hosted by Repent Films and Capt Catfish himself. It features a sacred plumb bob pilfered from Solomon's tomb. You'll be real surprised when you see the thing we conjure up at the end! Better get prayed up before you watch this!"
Feel the heat, smell the brimstone and pray for swampland salvation.
"Run Devil Run" can be found on Mathus' latest release "White Buffalo" on Fat Possum Records.