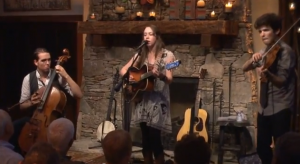 Sarah Jarosz with Alex Hargreaves (Fiddle) and Nathaniel Smith (Cello) performs two new songs from her 3rd album 'Build Me Up from Bones' (9/24 – Sugar Hill Records) in her hometown of Wimberley, Texas
'A Thousand Things' Jarosz says in the video is one she had been working on a long time and ended up finishing by co-writing by Darrell Scott. "Build Me Up from Bones" is the title cut of the new album.
Both songs display Jarosz deft touch and contemporary interpretation of traditional sound. If this is a solid sampling of what's to come I'm really looking forward to this album!
https://www.youtube.com/watch?v=63JOHsgc8RQ
https://www.youtube.com/watch?v=aoFkC0hbldA