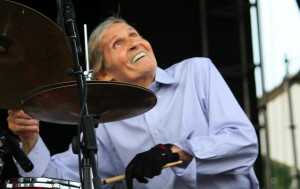 He didn't write many of the songs he made legendary but when he did them they stayed done.You couldn't imagine them any other way.
On this occasion of his birth I submit to you my choice in the top 5 Levon Helm songs he performed over his Band and solo career. I hope you like them. If you don't see your favorite place it in the comments below.
"Tennessee Jed" – This Jerry Garcia and Robert Hunter tune is from Levon Helm's final studio album "Electric Dirt." The album won the first ever Grammy Award for Best Americana Album, an inaugural category in 2010.
"Poor Old Dirt Farmer" – This cover from of an old traditional, the Grammy-winning "Dirt Farmer" , could have easily been written by helm in tribute to his birthplace of Elaine, Arkansas.
"A Train Robbery" – Depending on your source this Paul Kennerley penned tune may or may not be about Jesse James. True or not it's a great yarn well performed by Levon from the album "Dirt Farmer."
"The Night They Drove Old Dixie Down" – Written by Robbie Robertson with Levon Helm. The song tells the tale of the last days of the American Civil War and the suffering and humiliation of the South.
"The Weight" – Though it was not a significant mainstream hit for The Band it has gone on to become their signature song.