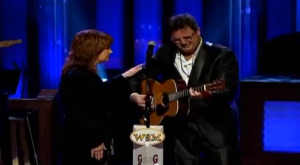 They laid the greatest voice in country music to rest today.
I checked in to the online stream on and off and , truth be told, it got to me. But the emotional performance below from Vince Gill & Patty Loveless of "Go Rest High On That Mountain" brought the magnitude of the moment into reality.
Alan Jackson closed the service with a heart-wrenching version of Jones' best known song He Stopped Loving Her Today.
This is as real as it gets y'all. This is the life blood of country music. Lest we forget.
http://www.youtube.com/watch?v=nbk19vEhy6Y
https://www.youtube.com/watch?v=QSLmlBlWp0k
Travis Tritt performs 'Why Me Lord' by Kris Kristofferson for George Jones memorial.