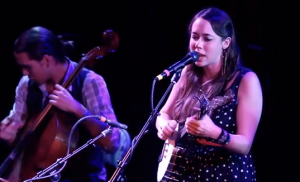 in honor of Record Store Day 2013 Austin native and folk singer/songwriter Sarah Jarosz is offering a new live release, Live at the Troubadour. The five song EP was was recorded the famed Los Angeles venue and features longtime collaborators Nathanial Smith (cello) and Alex Hargreaves (violin.)
Four live performance videos, shot by videographer Alex Chaloff, beautifully capturing the grace Jarosz of her live shows were created especially for the release. These were originally featured on The Bluegrass Situation, CMT Edge, Bluegrass Nation and RecordStoreDay.com.
Currently wrapping up her senior year at the New England Conservatory of Music, Jarosz will spend her summer making appearances at major festivals including Del Fest, Telluride Bluegrass Festival, High Sierra, Forecastle, Ossipee Valley and Newport Folk Festival.
LIVE AT THE TROUBADOUR track listing
1. Tell Me True
2. Kathy's Song
3. Mansinneedof
4. Shankill Butchers
5. Broussard's Lament
Look for Sarah Jarosz new Sugar Hill release is coming this fall.
Sarah Jarosz Tour Dates
2013-4-19 Burlington, VT – Flynn PAC – with John Prine
2013-4-20 Portsmouth, NH – The Music Hall – with John Prine
2013-5-03 Austin, TX – AT&T Executive Education and Conference Center
2013-5-23 New York, NY – Rockwood Music Hall
2013-5-25 Cumberland, MD – Del Fest
2013-6-12 The Woodlands, TX – Dosey Doe Coffee Shop
2013-6-13 Wimberley, TX – Blue Rock Artist Ranch – Blue Rock Studio
2013-6-14 Dallas, TX – Poor David's Pub
2013-6-15 Santa Fe, NM – The Downs of Santa Fe – with Rodney Crowell & Emmylou Harris
2013-6-16 Phoenix, AZ – Musical Instrument Museum
2013-6-18 Salt Lake City, UT – The State Room
2013-6-21 Telluride, CO – Telluride Bluegrass Festival
2013-6-22 Telluride, CO – Michael D. Palm Theatre
2013-7-06 Quincy, CA – High Sierra Music Festival
2013-7-07 Quincy, CA – High Sierra Music Festival
2013-7-13 Louisville, KY – Forecastle Festival
2013-7-25 Northampton, MA – Iron Horse Music Hall
2013-7-26 Hiram, ME – Ossipee Valley Music Festival
2013-7-27 Newport, RI – Newport Folk Festival
2013-7-28 Ogunquit, ME – Jonathan's Restaurant
2013-8-10 Portland, ON – Oregon Zoo Amphitheatre
2013-8-11 Seattle, WA – Woodland Park Zoo Amphitheatre