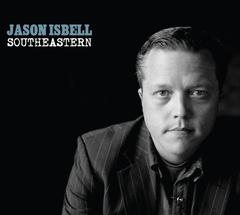 Jason Isbell will release Southeastern on June 11 via Southeastern Records/Thirty Tigers. This will be his second solo album since 2007's debut Sirens of the Ditch released shortly after his split from the Drive-By Truckers. Southeastern contains 12 new Isbell compositions and reportedly has "some of the most personal songs of self-reflection and discovery he has written to date."
Southeastern is a more personal release from Isbell as he deals with new beginnings, like the recent marriage to Amanda Shires and his now yearlong sobriety, without being mawkish pr getting on a soapbox.
The album will offer a duets with Amanda shires Traveling Alone and Stockholm with Kim Richey and will feature 400 Unit members Derry deBorja (keyboards) and Chad Gamble (drums.) The album was produced by Dave Cobb (Jamey Johnson, The Secret Sisters).
Southeastern Track Listing
Cover Me Up
Stockholm
Traveling Alone
Elephant
Flying Over Water
Different Days
Live Oak
Songs That She Sang In The Shower
New South Wales
Super 8"
Yvette
Relatively Easy