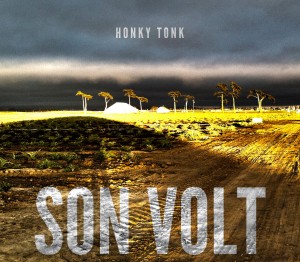 Alt.country/Americana music pioneers Son Volt will release Honky Tonk, their highly anticipated follow-up to 2009's American Central Dust.

According to a received press release, the 11-track album features a mix of classic honky tonk and acoustic-based songs about "heartache, heartbreak, and the road." Sounds like a winning combination.
According to a press release, the 11-track album us described by band leader Jay Farrar thus, "Honky tonk music is about heartache, heartbreak, the road." He reflects that as he wrote and recorded the songs so deeply steeped in tradition, "I wanted these songs to sound more contemporary and modern. There was no strict adherence to methodology of the past. You never want to be a nostalgia act."
"I was always averse to using certain words in songs, including 'love' and 'heart,'" frontman Jay Farrar explained. "But I started using them on American Central Dust, and now I guess the floodgates have opened."
The album is said to "dwell on affairs of the heart with album's opener, "Hearts and Minds," a speedy Cajun waltz which assays the delicate balance between love's steadfastness and its caprice, the plaintive "Brick Walls," and "Barricades," which affirms the necessity of pushing forward in the face of overwhelming despair and defeat."
Farrar also learned a new instrument as an inspiration for the sound of the record and " inspired an intense exploration of honky tonk music." "In the time between Son Volt records, I started learning pedal steel guitar. I play with a local band in St. Louis now and then called Colonel Ford. So I was immersed in honky tonk music, the Bakersfield sound, in particular. And it was almost second nature when I started writing the songs for this record."
"Honky Tonk and Farrar's forthcoming book, Falling Cars and Junkyard Dogs (Counterpoint Press, 2013) both continue his ongoing exploration of America's landscape through the redemptive power of its music. Yet for all its hearkening back to a classic sound, Farrar and company make Honky Tonk feel vital, fresh, and new."
Son Volt has national tour dates for April 2013 starting at Nashville's Mercy Lounge.
Honky Tonk will be released via Rounder Records on March 5. Check out the track list and tour dates below.
Honky Tonk Tracklist:
1. Hearts and Minds
2. Brick Walls
3. Wild Side
4. Down the Highway
5. Bakersfield
6. Livin' On
7. Tears of Change
8. Angel of the Blues
9. Seawall
10. Barricades
11. Shine On
Son Volt Tour Dates:
April
10 – Nashville, Tenn. @ Mercy Lounge
11 – Asheville, N.C. @ The Orange Peel
12 – Atlanta, Ga. @ Terminal West
13 – Carrboro, N.C. @ Cat's Cradle
14 – Knoxville, Tenn. @ Bijou Theatre
16 – Birmingham, Ala. @ WorkPlay Theatre
17 – New Orleans, La. @ The Parish
18 – Houston, Texas @ Continental Club
19 – Austin, Texas @ Old Settler's Music Festival
20 – Dallas, Texas @ Sons of Herman Hall
Got news tips for Twang Nation? Email holler(at)twangnation.com