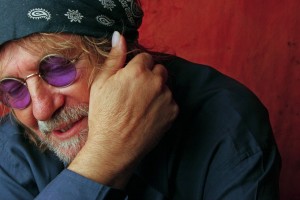 Is anyone working the circuit cooler than Ray Wylie Hubbard?
David Letterman continues his much-appreciated love affair with Americana and roots music by featuring Texas singer/songwriter/producer/guru Ray Wylie Hubbard as his music guest last night.
Hubbard performs "Mother Blues" from his latest Grifter's Hymnal (buy it here)
Like many of his songs it's a semi-autobiographical piece on guitars. girls and the "first of many bad decisions" loosely based around the Lemmon Avenue bar that, incidentally, was the first bar I ever when to. Hubbard appears to be a man that at the phase of his storied career shows no sign of running dry or slowing down, and appreciating every moment. Or as Hubbard does, after naming-checking and thanking the band and Dave, appreciates the moment with a "Been a damn fine day." God bless Ray Wylie Hubbard. May he roll on for many , many years.
Look for Hubbard on the road and at his annual Grit-and-Groove festival April 6, 1013 in New Braunfels, TX.
https://www.youtube.com/watch?v=kVRRekrEFoc