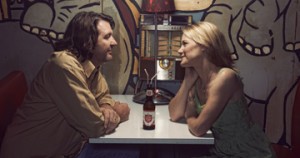 If there is such a thing as a Texas-based Americana music version of Conway and Loretta then Bruce Robison and Kelly Willis are it. But instead of rumors of romantic involvement Bruce and Kelly have been married for 15 years, and have 4 kids, so romantic interest is assured.
Each has their own celebrated solo careers. His penning #1 hits for George Straight, the Dixie Chicks and as a solo artist and occasionally helping out his brother Charlie Robison. Her as a successful solo artist and excellent duet partner.
They have decided to combine their considerable talent and to celebrate Valentine's Day a bit early on their release "Cheater's Game" out February 12.
The album is result os the staggering talent of these two and the help of fans who contributed to
wildly successful Kickstarter campaign to produce and promote the effort. Cheater's Game is split between original songs and covers of Hayes Carll, Don Williams and Robert Earl Keen. The title of the release is from a song Robison penned with The Trishas members Savannah Welch and Liz Foster which was featured on their excellent latest "High, Wide & Handsome."
The couple infuse The Blasters' "Border Radio" a upbeat Tex-Mex groove that makes for perfect road music spiced with lovely harmonies, slide guitar, fiddle, and ..is that a cowbell!!