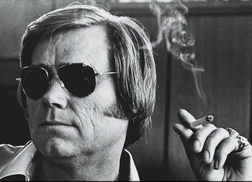 George Jones is synonymous with country music. Real country music. His storied career as a solo performer and with his ex-wife, the late Tammy Wynette, was rife with heady successes, heartache and substance abuse that would make Keith Richards wince. And, except for for a brief reprieve with a bout with an upper respiratory infection earlier this year, a phenomenal late-career comeback.
Now after over fifty years of touring, The Possum is decided to call it quits to "…spend more time with his wife, children and grandchildren." Jones says "It is tough to stop doing what I love, but the time has come".
As a tribute to his fans Jones will hit the lonesome highway one last time. The christened "The Grand Tour" will visit "approximately" 60 cities in 2013 and he will be performing hos legendary hits such as "White Lightning," "He Stopped Loving Her Today," "Who's Gonna Fill Their Shoes" and "I Don't Need Your Rockin' Chair".
Jones also plans to record a new studio album featuring Dolly Parton pennined songs. There is no scheduled street date at this time
Fans can see him at his upcoming:
08/10 – Boonville, MO – Isle of Capri
08/11 – Lula, MS – Isle of Capri
08/17 – Savannah, GA – Johnny Mercer Theater
08/18 – Durham, NC – Durham Perf. Arts Ctr.
08/30 – Woodstock, VA – Shenandoah County Fair
08/31 – Northampton, MA – Calvin Theatre
09/07 – Biloxi, MS – IP Casino
09/08 – Houston, TX – Arena Theatre
09/21 – Huntington, WV – Big Sandy Superstore Arena
09/22 – Myrtle Beach, SC – Alabama Theater
09/28 – Manistee, MI – Little River Casino
09/29 – Fort Wayne, IN – Embassy Theatre
10/04 – Wichita, KS – Orpheum Theater
10/05 – Arlington, TX – Arlington Music Hall
10/12 – Branson, MO – The Mansion Theatre
10/13 – Renfro Valley, KY – Renfro Valley Ent. Ctr.
10/26 – Wichita Falls, TX – Kay Yeager Coliseum
10/27 – Midland, TX – Wagner Noel Perf. Arts Ctr.
11/02 – Mahnomen, MN – Shooting Star Casino
11/03 – Deadwood, SD – Deadwood Mountain Grand Casino
11/09 – Branson, MO – The Mansion Theatre
11/10 – Morton, MN – Jackpot Junction Casino
11/16 – Peoria, IL – Peoria Civic Center
11/17 – Hiawassee, GA – Anderson Music Hall
11/23 – Winnie, TX – Nutty Jerry's Winnie Arena
11/24 – Bossier City, LA – Horseshoe Casino
12/01 – Elizabeth, IN – Horseshoe Casino
12/15 – Jackson, TN – Carl Perkins Civic Center