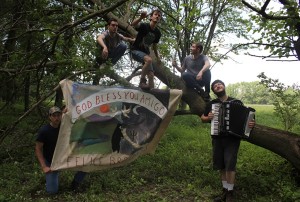 The Felice Bothers, the bad boys of Americana, have has a streak of bad luck that the band likens to the curse of Cleveland Indian right fielder Rocky Colavito. The band's home was nearly destroyed by a Hurricane Irene, their touring Winnebago was "driven to the ground and mercy shot like an exhausted horse somewhere in Vermont." Band founder lead guitarist and vocalist, Ian Felice, was hospitalized for an acute skin disorder in a foreign hospital, and if that weren't enough
their amps dies during recent rehearsals.
Showing the resiliency of Mickey Rooney & Judy Garland in the face of these difficulties, the band has recorded "God Bless You, Amigo" a collection of home recordings to raise money for a new touring vehicle and new amps.
God Bless You, Amigo is available now for $5 but if your feeling generous, you can give more.