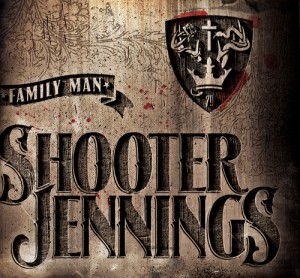 Modern-day troubadour Shooter Jennings newest release, Family Man, is being lauded as his return to country. Well, sorta….His 2010 psychedelic dystopian album, Black Ribbons, done with his band Hierophant, seemed like a side road homage from a fan that grew up  Pink Floyd and Nine Inch Nails. Family Man is more in like with his solo debut  Put the "O" Back in Country and sophomore release Electric Rodeo.  One album does not a change in direction make.
Jennings older now. Relocated to New York City with his new wife, the actress Drea de Matteo (the Sopranos, Sons of Anarchy) and new family, daughter – Alabama and son, Waylon "Blackjack" Jennings – the man seems more comfortable working the territory pioneered by his dad and others. This does not mean he's mimicking styles or settling down. Far from it.
The direction is clear from the opener The Real Me is a twist on the family values country music fair. A day with his kids turns to inebriation, violence, whoring and a dangerous foray near country rap with a single-breath  "I'm a double-talkin', chicken-lickin', meaner-than-the-dickens, sick and wicked, hole-diggin' son of a gun!" His new band, The Triple Crown, formed with childhood friend and master pianist Erik Deutsch, balances a live sound with a studio tightness that supports the songs lijke they're been together for years.
The Long Road Ahead is a mandolin rambler featuring lovely background vocals by Eleanor Whitmore. The song transforms subtly as Tom Morello, who worked with Jennings on his alter ego The Nightwatchman's second album The Fabled City, provides a discordant guitar break as only he can, but then settles right back in for the ride.
The album's first single, The Deed & The Dollar, starts with a pedal steel cry then settles into a 4/4 time shuffle his daddy would have loved. Like the title, the song is peppered with Southern vernacular. "She's finer than a frogs hair split four ways." "She's wild as a june bug on a string." Rhyming Holler with foller and dollar. If this was done from an outsider is might be seen as irony or snark. Shooter wields country grammar with respect. This song is a fine example of country music's comfort with sentimentalism despite it's history of masculine bravado.
Manifesto No. 4 and Southern Family Anthem are swaggering Southern Rock tunes straight from the Put The O Back in Country days.  Summer Dreams (Al's Song) is a shimmering cut of country pop that recalls the best of Micky Newberry. "Daddy's Hands" is another trad country celebration of family unity and glorious dysfunction elevated by the familiar harmonica work of Mickey Raphael.
The Black Dog is a spoken-word blues backed by acoustic guitar, mandolin and fiddle. A ghost story, a common theme of Civil war era folk music that the song mirrors, but specter in this case is a faithful companion showing loyalty from beyond the grave by drawing rescuers to the scene of a collapsed mine that has trapped his master.
Jenning's proves once again despite his significant heritage, he's his own man. At the helm of the songs as well as production he skillfully skirts the borderland of country music and guides it towards interesting, if familiar, terrain.  Jennings' recent advocacy of the XXX movement of genre exclusion led me to expect, well, I didn't know what to expect. But if this is XXX, sign me up. The artwork by Netler Creative, the minds behind Hank Williams III's iconic hellbilly imagery, is stunning in its attention to detail. Great to see that's not a lost artform.
Curiously, his most direct shot at Nashville cardboard populism and bravado  "Outlaw You" is missing on Family Man. In spite of the omission of that excellent shot off piss and vinegar this is a damn fine record that reminds us all that country music can evolve in ways that don't just follow music city's decree for the dollar.
The apple don't fall too far from the Tree.