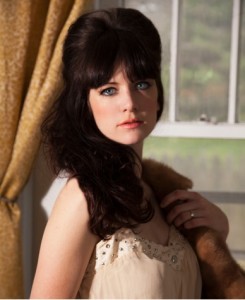 Here at Casa Twang we make it no secret that we are big fans of Nikki Lane. The comely raven-haired chanteuse might be only 28 but she delivers a classic country sound with a modern twist that belies her South Carolina upbringing and current home of Los Angeles.
Since her release of her first full-length, Walk of Shame, last year Lane has been busier than a long-tail cat in a room full of rockers. She played two showcases at last year's  Americana Music Association Festival (which I was lucky enough to catch), toured with Noah & The Whale and the mighty Drive-By Truckers, played NPR's "Mountain Stage" and recorded a session for the always excellent Daytrotter site. If that wasn't enough the bustling Ms. Lane has opened High Class Hillbilly  a Nashville vintage boutique.
Nikki has also found time to finish a new video for Walk of Shame's "Lies," directed by Jared Eberhardt, who also directed the "Gone, Gone, Gone" video. (Watch it below.)
The song has a classic reverbed 70s classic revived by Tarantino films depicting Nikki walking in the desert, signing while lounging in front of a fireplace, lying in a bed, and driving a Trans-Am that was probably manufactured the year she was born. And she makes every frame of it look good.