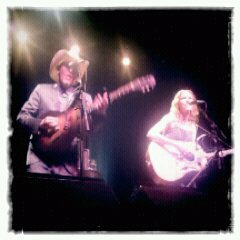 Gillian Welch and David Rawlings were greeted by an adoring Bay Area crowd Thursday night with and wit a wide smile Gillian greeted the crowd  "Howdy!"  She added "Somebody gave me shit the other day for saying "Howdy." "Hi" yeah that's more colorful." In a nutshell that is Gillian Welch's music, quaint traditionalism as a defiant gesture to a modern and cynical world. In many ways it's the same attitude that close genre cousin Music City takes in creating their product. But Welch, and the rich vein of Americana acts that flooded in the aftermath of O Brother…bring a lack of contrivance to the craft and a love of the tradition they honor.
Strolling onstage Rawlings, in gentleman cowboy courtier with fitted suit and a straw Stetson carried his signature 1935 Epiphone Olympic and Welch in simple dark dress was carrying her 1956 Gibson J50 acoustic guitar and vintage Vega Whyte Laydie banjo.. In person Gillian Welch, a hardscrabble, sparrow-boned woman with fine red hair, looks very much like a like a Steinbeck character. A perfect embodiment of the music she performs.
Welch, who is an UCSC alumnus and lived in the Bay are in the early 90's, mentioned that she had seen several shows at their venue this night,  the historic Warfield Theatre. "I saw a Jerry (Garcia) show here. I saw Tom Waits here, the one they filmed. And I was here for the Pixies when we broke the balcony dancing an jumping around." She then added "It look much different from this side."
After a rousing opening of Scarlet Town, also from, The Harrow & The Harvest, Welch mentioned was their fist time they had performed the song live. "Thanks for being our experimental lab." She said. The applause, hoops and hollers showed the crowed was open to a show without a net.
If Trace Adkins or Toby Keith came into the Bay Area I'm not sure how many of the locals would stand in rapt attention about live below the banjos, trains and life below the Mason/Dixon but when Welch was doing this very thing on Down Along The Dixie Line they couldn't get enough. It seems themes might be universal but the vehicle for delivery matters.
A lilting version crowd favorite, Look at Miss Ohio from 2003's Soul Journey closed out the first set, there was a 15 minute intermission for them as well as the audience to get a drink or dispose of same.
The second set opened with the back-woods existential romp The Way It Goes. David Rawlings took a turn at the wheel by performing the whimsical David Rawlings Machine number Sweet Tooth. Rawlings then took banjo duty for Six White Horses and while singing duet at a single mic Gillian did band slapping sort of like playing spoons but she was too poor to afford spoons. The often stayed dead silent in the quieter songs but clapped and sang along to the to the more rollicking songs from the new album (played in it's entirety) as well as the classics like Revelator and I Want To Sing That Rock and Roll, and no one left early. In fact, many stayed late—a testament to the quality of the music as well as the performance.
The first encore (there were two) featured an inspired rendition of the traditional number I'll Fly Away, which Gillian sang along with Alison Krauss on the O Brother Where Art Thou soundtrack. The crowd sand so loudly with her that several times Welch's eyes widened and lit up with surprise.
As a guitarist I'm especially impressed by a great player of David Rawlings caliber. His style falls somewhere between Chet Atkins and Django Reinhardt yet ends up sounding like nobody but himself. He deftly coaxes beautiful tones and delicate textures with deceptive ease.
"We promised not to let you leave happy." Welch quipped referring to the frequent theme of misery that runs through their canon, before preforming the fitting closing song The Way The Whole Thing Ends. I'm sure as the crowd spilled into the brisk San Francisco night agreed that it sure felt good to feel this bad.
[youtube]http://www.youtube.com/watch?v=bnbjmFyhljs[/youtube]
[edit – the playlist added]
Set I-Scarlet Town-Silver Dagger-One Morning-Elvis Presley Blues-Annabelle-The Way It Goes-A Dark Turn Of Mind-I Want To Sing That R&R-Hard Times-Look At Miss Ohio. Set II-Down Along The Dixie Line-No One Knows My Name-6 White Horses-Tennessee-Revelator-Swe​et Tooth-Red Clay Halo. E-The Way It Will Be-I'll Fly Away. E2-The Way The Whole Thing Ends.