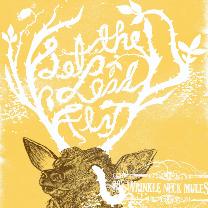 Richmond, Virginia's Wrinkle Neck Mules' fourth studio release Let the Lead Fly finds the band – Andy Stepanian on vocal, guitar, mandolin, Mason Brent on vocal, guitar, mandolin, pedal steel, Brian Gregory on vocal, bass, Stuart Gunter on drums and Chase Heard on vocal, guitar, banjo – strips down their earlier sound resulting in this fine rustic Americana bedrock veined with flashes of indy rock gold that fits well with other roots rockers like The Drive By Truckers,  Son Volt and American Gun.
The music of the hills and hollers is part of the backbone of rock and roll, but by dipping deeper into the well of influence Let the Lead Fly fits together the contemporary and the old timey like a snug harness. The title cut, with Andy Stepanian's graveled Fogerty-like hollerin' and top-notch fiddle, sounds as natural as an off-the-cuff front porch hullabaloo. Heard takes on the vocals for the mid-tempo Fortune Fades is a tunes that sounds like Jay Farrar stopped by The Band's up state New York Big Pink hideout for a Summer night jam.
Stepanian and Heard use thier respective strengths to harmonize on rustic-jangle of Medicine Bow and Dopamine Dream has a nice Red Dirt regional twang with guitar and pedal steel (which is interlaced throughout this release nicely) playing off each other nicely. Interplay between the old-timey and the contemporary doesn't stop there, The mountain lament The Waters All Run Dry dapples with clawhammer banjo and is met later in the song with a sweet run of electric guitar. Sepia colored memories are the source the smooth barroom shuffle of Catfish and Color TVs and Howard Johnson tells the tale the simple pleasures of a small town hangout. Let the Lead Fly is a great release  that,  strikes the right balance of old and new connected by excellent songwriting and performance chops. I can't wait 'til the WNM reload.
Official Site | MySpace | Buy

Wrinkle Neck Mules –  Let the Lead Fly.mp3
Wrinkle Neck Mules – The Waters All Run Dry.mp3