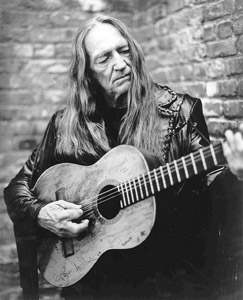 Billboard.com reports that Legacy Recordings will celebrate Willie Nelson's 75th birthday (April 30) by rolling out a series of special projects. The first is the April 1 release "One Hell of a Ride," a four-disc, 100-song boxed set.
The set bundles together music from Nelson's stints with numerous record labels, beginning with tracks recorded in late 1954/early 1955 for KBOP radio in Pleasanton, Texas.
While the track list is still coming together, look for early 1960s takes on "Night Life," "Funny How Time Slips Away" and "Crazy" plus iconic covers like Fred Neil's "Everybody's Talkin'," Hoagy Carmichael's "Stardust" and Fred Rose's "Blue Eyes Crying in the Rain."
Liner notes were penned by Joe Nick Patoski, whose Nelson biography, "An Epic Life," will hit bookstores this spring via Little, Brown.
Meanwhile, on April 29, Legacy will issue "#1s," a single-disc compilation of Nelson's chart-topping pop and country hits.
And of course Nelson's new studio album,the Kenny Chesney and Buddy Cannon co-produced "Moment of Forever," is due Jan. 29 via Lost Highway.
Look for Willie on the road until the end of time.
(via 9513)
February 1: Mescalero, NM – Inn of the Mountain Gods
February 2: Albuquerque, NM – Route 66 Casino
February 3: Glendale, AZ – Super Bowl Tailgate Party
February 5: Sahuarita, AZ – Desert Diamond Casino
February 8: San Luis Obispo, CA – Madonna Inn Expo Center
February 9: Reno, NV – Peppermill Casino
February 10: Monterey, CA – Golden State Theatre
February 11: Santa Rosa, CA – Wells Fargo Center of the Arts
February 13: Los Angeles, CA – Nokia Theatre
February 15: Indio, CA – Fantasy Springs Casino
February 16: Flagstaff, AZ – Ardrey Auditorium
February 17: Farmington, NM – McGee Park Convention Center
March 4: Austin, TX – Travis County Expo Center
March 5: Dallas, TX – Meyerson Symphony Center
March 6: Dallas, TX – Meyerson Symphony Center
March 7: Dodge City, KS – Dodge City Civic Center
March 8: Norman, OK – Riverwind Casino
March 9: Topeka, KS – Kansas ExpoCentre Landon Arena
March 11: Abilene, TX – Abilene Civic Center
March 12: San Angelo, TX – San Angelo Coliseum
March 13: Waco, TX – Heart of Texas Coliseum Waco
March 14: Austin, TX – The Backyard
March 15: Austin, TX – The Backyard
March 18: Richmond, VA – The National
March 19: Norfolk, VA – The NorVa Theatre
March 20: Cherokee, NC – Harrah's Cherokee Smokey Mount
March 21: Amsterdam, Netherlands – Melkweg
March 23: Esbjerg, Denmark – Musikhuset Esbjerg Centre
March 24: Randers, Denmark – Vaerket
March 25: Aalborg, Denmark – Aalborg Kongres & Kulturcenter
April 27: Malmo, Sweden – Baltiska Hallen
April 28: Stockholm, Sweden – Berns Salonger
April 29: Copenhagen, Denmark – Tivolis Concert Hall
May 1: Oslo, Norway – Oslo Concert Hall
May 2: Hamar, Norway – Hamar Ol Amfi
May 3: Halden, Norway – Halden Place D Armes
May 5: Lyngdal, Norway – Fibo Trespo Concert Hall
May 6: Aberdeen, Scotland – Music Hall
May 7: Dundee, Scotland – Caird Hall
May 8: Glasgow, Scotland – Clyde Auditorium
May 9: Glasgow, Scotland – Clyde Auditorium
May 11: Manchester, England – Manchester Apollo
May 13: London, England – Hammersmith Apollo
May 14: London, England – Hammersmith Apollo
May 15: Antwerp, Belgium – Queen Elizabeth Hall
May 16: Paris, France – Grand Rex Theatre
June 14: St. Louis, MO – Fox Theatre
June 21: Tama, IA – Meskwaki Bingo & Casino
June 22: Wisconsin Dells, WI – Crystal Grand Music Theatre
June 23: Oneida, WI – Oneida Ballroom
June 25: Milwaukee, WI – Northern Lights Theater
June 26: Bayfield, WI – Lake Superior Big Top Chautauqua
June 27: Council Bluffs, IA – Harrah's Casino