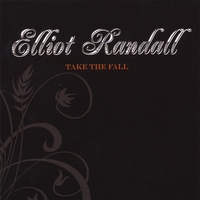 Elliott Randall is a man to watch.
Randall, not Elliott Randall the ex-Steely Dan guitarist best known for his guitar solos on Reelin' in the Years, but the Bay area by-way-of Charleston, South Carolina, alt.country rocker has a lot going for him. On first listen it's easy to be lazy and compare Elliot Randall's superb release "Take the Fall" (self released) to some of Ryan Adams best work.
For instance take the melancholy slide-guitar and Rhodes keyboard steeped "Elephant" and the soul-wrenching title track, Randall sounds much like he's channeling Adams more soulful moments. But Randall is his own man and as an artist he's in many ways more focused in his compositions than Adams has been of recent. "How to Get Old" is a damn fine song that could have come from Uncle Tupelo with little mainstream Nashville hook added in to sweeten the experience. It works skillfully and without coming off as sterile and contrived. More Early Guy Clark storytelling than Kenny Chesney clichés.
Barn-burning rave-ups like Don't Give Up On Me" and "Leaving This Town" show that the man can get a room moving when he wants to.
A recent feature on an Americana Roots podcast, Randall straddles the country and rock worlds proficiently and his work sounds both timeless and fresh.