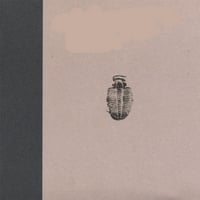 Albuquerque, New Mexico based band Trilobite – a.k.a. Singer, songwriter, Mark Ray Lewis fancies himself a "fictionist", but unlike most creative writing 101 wankers who strive to be the second coming of Zimmy Mr. Lewis has the literary cred to back it up.
He was a Wallace Stegner Fellow at Stanford and won the O. Henry and Pushcart awards for  his short fiction piece Scordatura — which featured an introductory note by Dave Eggers, and was nominated by Joyce Carol Oates. Not too shabby.
From the sound of this self-titled release Mr. Lewis has also studied the atmospheric Southern  Gothic gospal of Jim White. There is a nod to the old-school – fiddle, pedal steel, banjo,pump  organ – but then the music becomes a beautiful bastard hybrid that surprises.
Like White Mark Ray Lewis has a voice made for stories. Coaxing expression and depth out of his simple, straight-ahead delivery of dark myths. And like other great "fictionist" his stories are never obvious or staightforward, but the stories draw you in and keep you listening.
The release begins with Pumpkin Farmer, the strains of fiddle a loping cadence andbackground vocals Michelle Collins provides a cupie-doll rasp to harmony on this gem. Man of God uses a Wobbly pedal steel to lay the solumn mood which is then shards of a clawhammer banjo and draw of a fiddle and cello provide warmth to an otherwise chilly tune. The Ledge is a beautiful, haunting oblique tale of hunting tragedy. The Caves of Burgundy is almost a jangly, joyful tune until the whispered, fragmented, misaligned harmony weaves into a song of lust or death, hard to tell. Snakeriver is a bloody Texas two-step tha  sound like it's being delivered from the bottom of a cavern and evolves into a Southwestern stew of schizophrenic music styles that still comes out sounding coherent and lovely. Samsara is a stormy piece laid over a muffled phone message like a call from the afterlife.
This is a dark and lovely slice of Americana that embraces tradition while it moves the genre in new and interesting directions.