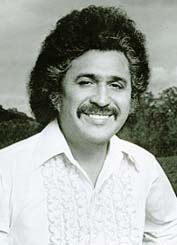 I remember as a kid in Texas in the 70's you couldn't go anywhere without hearing "Wasted days and wasteed nights" and "Before the Next Teardrop Falls." Both made it to #1 on both the pop and country charts.
Fender recently won a Grammy for Best Latin Pop Album in 2002 for "La Musica de Baldemar Huerta." He also shared in two
Grammys: with the Texas Tornados, which won in 1990 for best Mexican-American performance for "Soy de San Luis," and with Los Super Seven in the same category in 1998 for "Los Super Seven."
He said in a 2004 interview with The Associated Press that one thing would make his musical career complete — induction into the Country Music Hall of Fame in Nashville.
"Hopefully I'll be the first Mexican-American going into Hillbilly Heaven," he said.
RIP Freddy. I hope you got there. You certainly earned it.